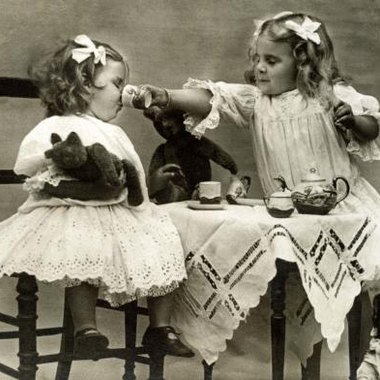 Heritage heirloom parties encourage the exploration and celebration of family or local history. The party can focus on any heritage or period in time to celebrate the past. There are several different ways you can celebrate using a heritage theme. Choose a theme that interests guests and provides historical or ancestral accuracy.
Tea Party
A classic heritage heirloom party is an heirloom tea party. Use dishes passed down from previous generations, if possible. If you don't have any of your own dishes, you can purchase some inexpensively at an antique store or estate sale. Set the table using the dishes. Have guests dress up for the party. Serve classic tea party foods, including finger sandwiches and individual desserts. Make sure to have plenty of tea. You can use your own tea service or rent one from a party store.
Family History
A family history party is a fun way to celebrate heirlooms and family heritage. Research an ancestor and plan the party around how they lived. If your ancestors were farmers, then host a farm-style party, complete with country-style foods and decorations. If your family members were sailors, use a nautical theme for the party. Use any family heirlooms passed down from relatives and display old family photos for decorations.
Period Party
If you don't have any notable family ancestors, you can throw a heritage period party. Determine when your ancestors first arrived in your country. Plan the party using props and themes from that period. For example, if your family arrived in the United States in the 1850s, use that era as the theme for the party. Serve food popular during that time and encourage guests to dress up. You can also play music from that period and play games popular during that time.
Outdoor Party
Another way to celebrate heirloom and heritages is with an outdoor party. This theme does not have to stick to a particular era, but it should have an old-fashioned feel. Use cloth decorations, such as banners, and a collection of eclectic dishes and tableware when setting tables. Use old garage sale finds to give the party a slightly rustic, old-time feel. Serve classic old-fashioned dishes, such as lemonade, fried chicken and potato salad.
Photo Credits
Jupiterimages/Comstock/Getty Images