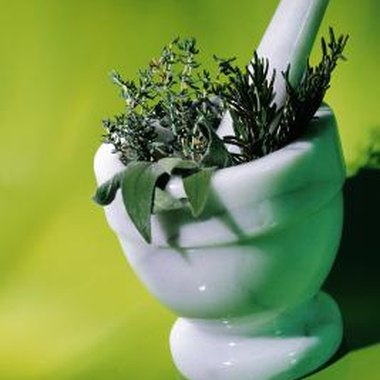 Round Top, Texas, is the home of the annual Herb Festival sponsored by the Pioneer Unit of the South Central District of the Herb Society of America. Most of the festivities, scheduled on the third or fourth weekend of March every year, are held at Festival Hill on the grounds of the home of the late Madalene Hill who co-authored the 1987 book "Southern Herb Gardening" with her daughter Gwen Barclay.
Themes
Herb lovers and plant enthusiasts gather at this popular festival, about 75 miles southeast of Austin, to exchange ideas, meet with fellow herbalists and catch up on new herbs and herb applications. This annual event always features a herb of the year: In 2010 it was dill, and in 2011 horseradish was the focal plant. The 2012 theme for the popular festival is "Roses are herbs, too!"
Events
The festival features workshops on herbal applications, herbal remedies, landscaping and crafts. For example, in 2010 Felder Rushing, a horticulturist from Mississippi, held a seminar on suitable containers for herbs that included handmade and unusual receptacles. Cooking with and adding herbs to different types of foods is also a common topic at the festival. Herb growers and local people attend the events to learn how to apply this knowledge to their own plant-based projects and gardens. All of the money derived from the festival and these events goes to support the gardens at the Festival Institute.
Product and Plant Sales
The sale of plants and plant byproducts is also part of the lure of the festival. Shoppers can purchase plants such as basil, rosemary, chamomile and oregano for their homes and gardens. Manufacturers of skin-care products and herbal remedies display their items and offer samples to attendees. Craft items and gardening supplies are also available for sale at the Thyme Well Spent Gift Shop.
Other Local Events
While the Herb Festival is the only main herb event held in Round Top every year, there are many other fascinating local events in this small but vibrant city. For a month-plus, a Summer Music Festival is held at Festival Hills every June and July, featuring 40 concerts and other music events. An August-to-April series, which includes the Herb Festival, features a variety of museum functions, concerts, theater productions, musical acts and vocalists, and a special December showing of the Nutcracker, all of which portray Round Top as a prospering city of talent and culture.
Photo Credits
Comstock/Comstock/Getty Images