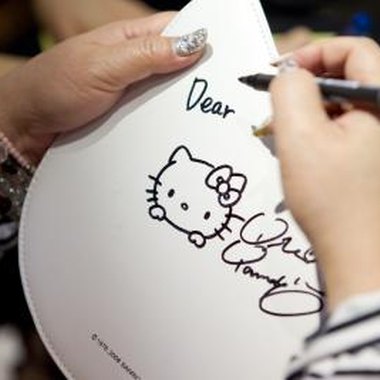 If you're looking for a baby shower theme that will appeal to more than one generation, think Hello Kitty. She's been around since 1974, appealing to both little girls and young teens and striking a nostalgic tone with their moms. The mom-to-be can even decorate her nursery in a Hello Kitty theme. The popularity of Sanrio's famous cat makes it easy to find invitations, decorations and other products, to create the perfect baby shower.
Colors
To keep with the theme, choose colors like bright pink, yellow and lime green. Balloons and crepe paper streamers will keep the theme light and cheerful. Think about decorating with tissue paper flowers and using pink and lime green table cloths. White is an excellent accent color for this theme. Hello Kitty figures will stand out against the colored backgrounds
Decorations
There are many different Hello Kitty plush animals that will decorate a room nicely. Consider purchasing one as a centerpiece for the main table that can also be a gift for the new baby. If you really want to embrace the anime theme, hang colored paper lanterns from the ceiling. Remember to keep things light-hearted while you are decorating. Serve drinks with Hello Kitty straws that have attached pink umbrellas. Have a collection of pink bows that your shower guests can clip into their hair (on the left side, of course).
Invitations
There are a number of Hello Kitty themed invitations that you can purchase online or through a local retailer. Instead of printing the shower information, write them out by hand with a pink or lime green fine-tipped marker. You may also go to Sanrio.com and create your own personalized artwork to turn into an invitation that you print on pink paper.
Shower Favors
Nothing says "Hello Kitty" quite like a gift bag filled with pencils, erasers, pens and stickers. Better yet, use a Hello Kitty coin purse instead of the gift bag. Since this is such a whimsical and young theme, don't be afraid to have a little fun and give items as shower favors that you probably would have gotten at a birthday party when you were 10 or 11. You could also give note pads with matching pens or mechanical pencils.
Food
Hello Kitty's favorite flavor is strawberry. You may not be up for a strawberry cake, but you could serve a strawberry punch with vanilla ice cream "clouds." Keep the menu in line with what the mom-to-be would like, avoiding foods that are not allowed during pregnancy (many soft cheeses and smoked meats are off limits because they can cause a bacterial infection that is dangerous to both mom and baby).
Photo Credits
Marco Garcia/Getty Images Entertainment/Getty Images