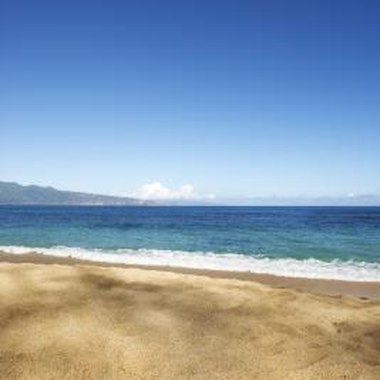 There are several hedonism festivals around the world, drawing pleasure-seekers from all walks of life. Two festivals take place in Jamaica, one in Key West, Florida, and still another in Germany, just outside of Berlin. These festivals invite party-goers to strip off their clothes and enjoy dancing, drinking, fine foods, sexual adventures, and -- most of all -- privacy.
Fantasy Festival
The Fantasy Festival takes place in Key West, Florida a week before Halloween every year. It was created and is run by the Universal Church of Freedom, Acceptance, and Love. The festival's mission is to allow every visitor to realize that all have the right to do what they want without feeling bad about satisfying their desires. The festival promotes pleasure and self-gratification, with strict rules, though, against harming anyone else. The festival does not allow public nudity or open containers of alcohol, as the festival takes place on a public beach. Unlike other festivals, the Fantasy Festival has free admission and welcomes any and everyone to attend. Local police are always around to ensure everyone's safety.
Hedonism 2
Often called called the Love Voodoo Fest, this event takes place November 11 through 20 in Negril, Jamaica, a world-renowned resort. Residents of the town even rent out their homes to accommodate visitors. Smoke machines, drinking, dancing, and nudity begin the celebration at a pool party. The rest of the festival is spent enjoying the pleasures of food, drink and sex. To reserve a spot at this festival, it costs only $100 to place a deposit on a room. The nude parties take place in festival-sponsored private pools and buildings, which do not allow the general public or the media near, thus ensuring the participants' privacy.
Hedonism 3
The venue for this festival, often referred to as Hedo3, is only 90 minutes from Montego Bay, Jamaica. The Jamaican Blues Festival takes place during the same time as the Hedo3 festival, yet is not a part of the festival's package. The festival is famous for its Jamaican Water Slide, which takes participants through a disco and ends in the middle of the central plaza. Participants are supposed to slide naked. This festival provides fun for both the nude and the "prude," meaning not everyone has to walk around naked to have fun. Like other festivals, participants enjoy food, wine, water sports and hot tubs. Unlike some, this festival forbids public sex.
Hedonism Europe, AREA69
This festival takes place in Briesen Park and Palace, just outside of Berlin. The location is called AREA69, and provides several stages, dance floors, porn areas, a nudist area, and spas. Participants are limited to 1,000 -- exactly 500 women and 500 men. Every year, a famous headliner is invited to play a concert for the guests. There are also trade shows to educate participants on innovations in sex toys, special furniture, and lifestyle brands. The porn area allows visitors to act out their secret fantasies by creating their own movies and erotic photos. To ensure visitors' privacy, no outside photography is allowed during the festival. Photos taken in the specified erotic and porn areas are for the participants' use only, and do not appear in any promotional materials for the festival.
Photo Credits
Thinkstock/Comstock/Getty Images