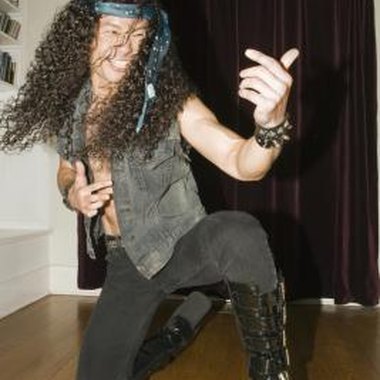 Heavy metal is a style of music that originated in the hard rock bands of the late 1960s and early 1970s. Heavy metal can be recognized by distorted and amplified music with lyrics about death and evil. The genre is also visually driven, often featuring death images and elaborate costumes. A heavy metal party is a challenge because supplies can't be easily found at a party supply store. Ask other metal fans where they buy their clothing and memorabilia to get some leads on where to shop.
Heavy Metal and Gothic Decorations
The visual aspects of heavy metal music borrow from several genres. Rock elements like guitars and leather are present, as are Gothic elements like black velvet and skulls. Plan ahead and pick up Halloween decorations. Even if the party won't be for months, you could shop post-Halloween sales and get discounted decorations. Colors like black, red and purple are usually associated with heavy metal. Purchase black balloons and streamers. Pick up plastic or foam skulls and tombstones. Look at antique stores and flea markets for candelabras and buy black candles. Decorate the doorway of the venue with black curtains and change out all the light bulbs for black lights.
Heavy Metal Menu
Plan a menu inspired by heavy metal songs. Create a menu where each dish is named after a song or singer. Pick foods that are dark in color. Bake a skull cake or sugar skull in the tradition of the Day of the Dead and decorate it with black icing. Serve blackened catfish as a main dish; it has a charred appearance on the outside. Serve food on antique silver platters. Shop in October for coffin-shaped boxes or platters and serve food out of them. Create black punch by adding club soda to blackberry juice. Add vodka for an alcoholic version.
Metal-Inspired Venues
Venue is important for a heavy metal party. If a local hall or church has a basement available to rent, you can easily block out windows and create a dark, mysterious atmosphere. Rent out a historic home with Gothic architecture and you won't have to decorate. If there's a park beside a cemetery or if a friend happens to have a cemetery on his property, hold the party at twilight in the cemetery. If you live in a city, rent a heavy metal club for the night or find a restaurant with the right atmosphere.
Music and Entertainment
Black Sabbath, Judas Priest and Metallica are considered heavy metal artists, but every metal fan has her favorite musicians. Ask your party guests for their top five heavy metal songs and create a playlist. If there is a local metal band, hire them to play. Other entertainment ideas play into the Gothic side of heavy metal. Have a tarot card or palm reader for guests to consult. If the venue is big enough, hire a fire breather or a falconer who can walk around with a bird of prey. Rent a karaoke machine with an all-metal selection of songs.
Photo Credits
Sean Murphy/Lifesize/Getty Images