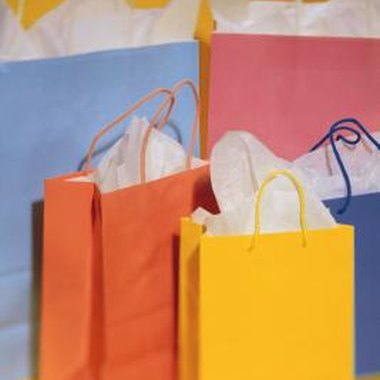 Party bags are typically full of novelty items and items that are unhealthy. Children's party bags usually contain candy and toys. Adult party bags contain anything from chocolate to liquor, depending on the party theme. It is possible to make healthy party bags that are still appreciated by guests. The key is to substitute unhealthy food with healthy food that tastes good or with items that promote healthy lifestyles.
Hiking Party Bags
Summer party bags can contain items that will be useful to guests during the summer months. A hiking party bag is exactly that. Put healthy foods, such as trail mix -- without chocolate -- and granola bars in a small tote bag. Traditional party bags are OK, too, but a tote bag can be useful while hiking. Add a pedometer so recipients can measure their steps while hiking. Other possible hiking party bag items include insect repellent and baseball caps. This type of party bag is not appropriate for the infirm. Substitute a gift certificate to a local produce market and a reusable grocery bag for guests who are not likely to go hiking.
Children's Party Bags
Children often expect candy to be in their party bags. It may be difficult to please them with healthy foods, such as fruits and grains. Avoid disappointment by eliminating food in children's party bags and replacing it with items that promote exercise. Fill bags with jump ropes, relay race batons and foot bags. Include simple instructions on how to play games with these items. Include jump rope games, using jump ropes to tie legs together for three legged races, different relay races and foot bag games in the instructions.
Book Party Bags
Instead of packing adult party bags with small bottles of liquor or packages of candy, go with book-themed bags. Give out bags with healthy cookbooks and the ingredients to make one of the recipes in them. Measure out the ingredients and put them in food storage bags and containers to save money. Promote nature walks by giving bird watching books and binoculars. If it is a couple's party, promote relaxation by giving books about couple's massage and a bottle of massage oil to each couple. These items do not have to be expensive. Go to a local dollar store to find inexpensive books and corresponding items.
Beauty Party Bags
Girls' parties often have makeup, beauty or skin care themes. Bags for these types of parties should include bath and beauty items. However, not all of these items are healthy for women's skin. Choose organic items, such as bubble bath, moisturizer and body wash, from local vendors that make homemade skin care items using only natural products. Alternatively, give makeup brushes made with natural materials -- not plastic -- cotton balls and organic facial moisturizer.
Photo Credits
Comstock/Comstock/Getty Images