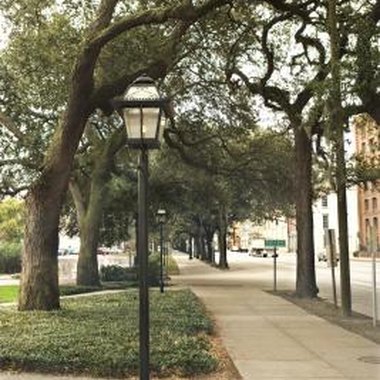 Savannah, Georgia has been designated America's "most haunted city" by the American Institute of Parapsychology. Savannah has a history that dates back to 1733, when its first families founded the city on high ground a few miles from the coast in the new colony of Georgia. Today, there are several tour companies that take ghost enthusiasts on trail walks and rides to experience the haunting firsthand.
Savannah City Squares
The walking tour of Savannah's city squares covers an infamous history that includes a witch-burning. One home passed in this walking tour, the Hampton-Lillibridge house, is said to undergone four exorcisms and was reportedly declared by Duke University to be the "most psychically possessed home in America."
Bonaventure Cemetery
A walking trail through the Bonaventure Cemetery, less than 15 minutes from downtown Savannah, overlooks the St. Augustine Creek and the Intracoastal Waterway. Savannah Tours (savannahtours.us) offers a tour of the cemetery that reveals some of the history of the area as well as the local botany. After listing some of the famous people buried there, the tour guide will talk about Little Gracie, a child who is said to be heard crying for her parents at the cemetery. Some people have said that they have seen tears on the image of Gracie that was erected at her gravesite. Gracie died in 1889.
Ghost Tour
The Ghost Tour covers a walking trail that passes the Candler Hospital, Colonial Park and its cemetery, and Pirates' House. A ride is provided to these haunted spots by Savannah Tours. The tour guide explains the history of these locations and sightings that point to their being haunted. Video clips are provided on the bus from TV shows that have investigated the hauntings. Incidences of murder, death and possessions are explored. Savannah Tours officials promise a 99 percent chance that those walking these trails will discover ghosts or spirits in their photos.
Pirates' House
The Historic Haunts Trolley tour offered by Savannah Tours includes dinner at the "haunted" Pirates' House. Those taking the tour walk through the Rum Cellar, which is the entryway to the historic tunnels beneath the business. According to the Pirates' House website, men were drugged and shanghaied at the location shortly after the building was built in 1753. The site also says that the ghost of Captain Flint haunts the Pirates' House on moonless nights.
Resources
Photo Credits
Thinkstock/Comstock/Getty Images