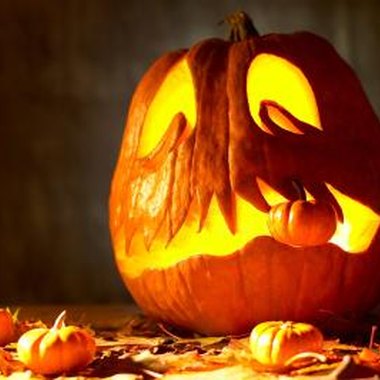 Conroe is a city in Montgomery County, Texas, approximately 40 miles north of Houston. The Haunted Trails of Conroe is an annual Halloween performance event. It is a horrifying walk deep into thick woods that go on for approximately two miles, but which can feel like a lifetime. The trails are populated with almost every undead creature, witch and warlock, monster of myth, Hollywood horror, nightmarish apparition and ghoul that ever populated your worst nightmare.
Gaining Entry to the Realm
The Haunted Trails (thehauntedtrails.com) are accessible to the living only on Halloween night, October 31st. The gates creak open at 7:30 p.m. and slam shut at 11:30 p.m., unless some guests have not made it through safely. In that case, staff remain on-site until the remains have been located, or all hope is lost. Pregnant women and those with heart conditions are discouraged from attending, and children under 5 years of age are not allowed into the trails; the assumption is that they simply taste too sweet.
The Price We All Must Pay
For those with iron stomachs, the price of admission includes a hotdog, a beverage and a treat bag. The organizers also put on a bonfire, in years when Montgomery County does not institute a burn ban.
What Horrors Await the Frail Human Frame
The Trails is a wicked haven for twisted imaginations and tortured souls: Theatrical set pieces vie for the greatest impact with actors in costume and terrifying props. Between them, they assure that sinister spirits can be heard calling through the woods from beyond the grave; that madmen stalk with blood-dripping hatchets; that creepy clowns shuffle from open drains; that crawling spiders and rats and rodents -- all with a taste for warm, living human flesh -- populate the darkest, most dangerous corners, and that shuffling, weaving, wandering undead hungry for human brains lurk around every corner.
Every Year a New and Diabolical Dread
Each year a fresh and worse horror haunts the Trails. In 2010, killer Jack Casey slunk into the deep woods at some point during the week before Halloween, and set about making his mark on the already-dicey psyche of the local population. Killer Casey was known about the neighborhood for taking things too far when smart-mouthed kids cried out for a little chastising; he disappeared at the turn of the century, but it seems his spirit still resides in the area, and remains out for blood. People in the neighborhood are loath to speak his story out loud, for fear of attracting his unwanted attention, but it seems his grave was never found...
As If Further Warning Was Needed
Staff members with flashlights are stationed throughout the Trail and guide those who have had their fill to the nearest exit. That said, entry is -- of course -- entirely at everyone's own considerable personal risk. Fog machines and strobes are in use, so people prone to bad reactions to flashing lights should refrain from entering. Guests should wear footwear appropriate for a long walk in the woods, and for running for their lives if necessary. No still cameras or videotaping is permitted. The consumption of alcohol and the use of any substance which inhibits the ability to discern fantasy from reality is strongly discouraged.
Photo Credits
Hemera Technologies/Photos.com/Getty Images