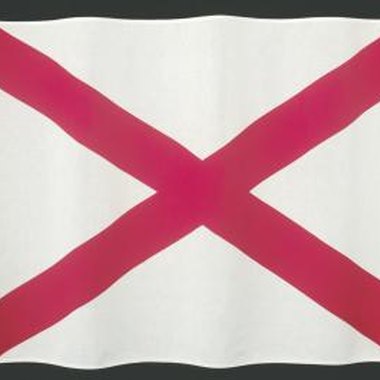 The United States is awash with mysterious sites and supposedly haunted places. Northern Alabama is no exception, with paranormal activity reported everywhere from schools to mountains. Some haunted places are little more than mundane locations that have acquired a reputation for being scary, while other places are commercially-run tourist attractions.
Trails
The Haunted Gin (thehauntedgin.com) in Meridianville is one example of a spooky Alabama trail that visitors follow. The Haunted Gin is a corn trail opened as a commercial venture, and visitors walk along a set path while encountering actors playing a range of terrifying parts along the way. Visitors can enjoy hay rides as a bonus extra. At the town of Locust Fork, visitors brave the half-mile of fear that is the Deadman's Trail (deadmantrail.com). Another commercial venture, the trail is based around a story concerning the plight of Mr. Carson and his wife, who were supposedly killed on the trail by wolves. The company behind the trail promise unexpected sights and grisly costumes aplenty.
Haunted Houses
Some haunted houses in northern Alabama are commercially-run ventures designed to both scare and entertain visitors. An example is the Haunted House of Horror (hauntedhouseofhorror.com), in Courtland. The house itself is based in an old high school, and offers a terrifying experience set over 8,000 square feet. Visitors can buy fresh pizza on-site to recover from the scares. Located in woodland near to Lincoln in Alabama, The Asylum (alabamaasylum.com) features both an indoor experience and an outdoor route, and invites visitors to brave the horrors of a building once inhabited by a dangerous psychopath. The outdoor area consists of a walk through dark woods.
Parks & Mountains
At the foot of Green Mountain (greenmountainhuntsville.com), in Huntsville, are the mysterious Hell's Gates. These black gates are said to have been installed to protect the security of a mansion located nearby. Visitors to the gates have reported seeing a ghostly car appear before quickly vanishing again. After a boy died in Kent Robertson Park (no website; 7620 Logan Drive., Huntsville), also in Huntsville, the place has supposedly been haunted by his presence. Visitors have reported hearing him making sounds at night.
Other Haunted Places
In Huntsville, visitors can take a trip to the Maple Hill cemetery (maplehillinc.com). This forbidding place is said to contain the spirit of an elderly woman buried inside a crypt alongside a rocking chair. Visitors to the cemetery may hear the sound of the woman's ghost rocking on her chair as they explore the area. The Albertville Public Library (albertvillelibrary.org) is menaced by frightening sounds, including the noise of rapping on doors as well as phantom water running from taps in the building's bathrooms.
Photo Credits
George Doyle/Stockbyte/Getty Images