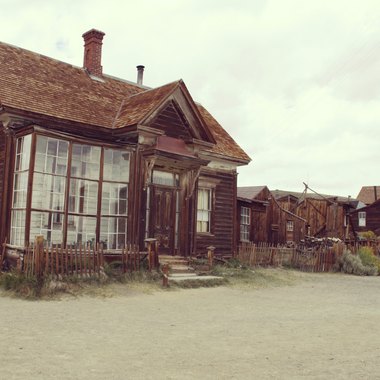 The Battle of Gettysburg was the bloodiest battle of the Civil War, according to the "The Civil War," a book co-authored by documentary filmmaker Ken Burns. After the three-day battle in July 1863 ended, the casualties totaled 51,000. Townspeople reported that they found dead bodies in the fields, behind buildings and fences -- wherever the injured soldiers had gone to find a safe place to hide. Gettysburg residents tended the soldiers who survived. Since then, observers have reported spirits haunting the town's historic sites.
Ghosts of Gettysburg Tours
The Ghosts of Gettysburg Tour company was started by Mark Nesbitt, a former National Park Service historian and ranger. He is also an author of several books on the paranormal happenings in Gettysburg. Tours are conducted at night by guides in period dress. Tour participants are taken to area cemeteries, haunted buildings and houses. The campus of Gettysburg College is also a tour stop. During the Battle of Gettysburg the college, founded as Pennsylvania College, became a hospital site for Confederate and Union soldiers. For tour reservations, call 717-337-0445.
Ghostly Images of Gettysburg Tours
The Ghostly Images of Gettysburg tour group offers two walking tours: the Haunted Orphanage Tour and the Jennie Wade Tour. The Haunted Orphanage Tour takes you into the building where orphans were chained to stone walls and treated cruelly. A tour of the neighborhood is included. The Jennie Wade Tour takes you to the south side of Gettysburg and through the East Cemetery Hill area. Your guide will tell tales of ghostly interactions and you will see where Jennie Wade died, the only civilian to die during the Civil War. To make reservations, call 717-334-6296.
Gettsyburg Ghost Tours
Gettysburg Ghost Tours group offers candlelit walking tours. The Black Cat tour takes you down dark alleys to locations such as the Haunted Creek Bed, The Dobbin House, the Lincoln Cemetery and the Jennie Wade House. The group also offers a one-hour Scare on the Square Tour, which takes you to haunts such as the Globe Tavern, the Old Main School Building and the Wills House, where President Lincoln stayed the night before giving his famous Gettysburg address. The Battlecry Tour takes you to cemeteries, the Reynolds House and to battlefields. Call 717-338-1818 for information.
Farnsworth House Inn
The original part of what is now the Farnsworth House Inn was built in 1810. During the Battle of Gettysburg, Confederate soldiers used the inn as a base, shooting at Union soldiers from its windows. There are said to be 100 bullet holes on the south side of the building and at least 14 spirits that haunt the inn. The Gettysburg Convention and Visitors Bureau states that the inn is one of the most haunted inns in America. Tours are offered on Saturdays at 3 p.m. Call the inn at 717-334-8838 to make tour reservations.
References
"The Civil War"; Geoffrey C. Ward, Ric Burns and Ken Burns; 1990
Photo Credits
Jupiterimages/Photos.com/Getty Images