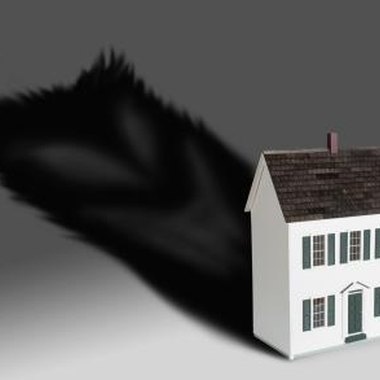 A town so proudly spooky it boasts its own official "Ghost Tour," St. Charles, MO is prime haunted house real estate. St. Charles Ghost Tours is a city-authorized, ongoing research project into suspected paranormal activities going down across storied Main Street. Ghost-seekers wield electromagnetic field (EMF) detectors to ferret out their prey at Main Street's most phantom-infested sites. Here's a chilling taste of who's haunting St. Charles, where these ghosts call home and why they can't rest in peace.
The "Repentant Sheriff"
The Ghost Tour's hunt for the "Repentant Sheriff" begins at the former St. Charles County Courthouse on South Main Street, where Sheriff Ebenezer Curtis aided in gallows executions in the early 1900s. History implies that the men Curtis hung were not in fact guilty for the crimes he charged. Alleged to have committed suicide, the "Repentant Sheriff" lived down the street from the Courthouse, off a dark narrow alley in an apartment house at 301 South Main that he is now said to haunt. People claim to have heard a dislocated voice coming from this alley, repeating in a whisper the words, "I'm sorry." According to the Ghost Tour's literature, EMF detectors "go wild" when the tour group descends on the Sheriff's old digs.
"Litte Girl Lost"
For "Little Girl Lost," the Ghost Tour looks in several South Main Street establishments, specifically at buildings 519 and 523, the approximately location where the girl is rumored to have died in a horrific 1940s apartment fire. St. Charles locals working on this now-commercial block have reported recurring signs believed to indicate the girl's ghost's presence. They claim, for example, to feel her hugging their legs and that display racks in stores start trembling without reason. By the Ghost Tour's research analysis of these reports, "Little Girl Lost" is bored and aimless, and acting up in the recognizable ways that little girls are apt to when taken on unwanted shopping trips.
"The Riverboat Captain"
Supposedly a neighbor-in-haunting to "Little Girl Lost," "The Riverboat Captain" has been reported lurking precisely in her choice shop for mischief-making at 523 South Main. Coincidentally, it also is the site of his former home. As local legend has it, the Captain had become angry when the city erected the Crows Nest building across the street, blocking his home's river views. Assumed to be senile at the time, the Captain would sit all day in his rocking chair at the front window, smoking his pipe and muttering bitterly to himself. When the Ghost Tour visits the Captain's old abode, group members listen intently for the tell-tale noises reportedly attributed to his ghost: the continued creaking of his rocking chair and his obsessive mutterings still about his precious stolen views.
"The Lady in White"
Finally, the Ghost Tour hits its paranormal climax at "The Lost Graveyard," chilling environs allegedly home to the notorious "Lady in White." This is St. Charles's most active haunted house, both in terms of its potent EMF forces detected and the numerous manifestations reported to have been witnessed of its ghostly tenant. St. Charles historical folklore locates the Lady in White's tragic life and death in the 1800s. She lived near the graveyard until her young death shortly after birthing her son, the father of whom in turn left town shortly after her burial. Records reveal that she was actually buried in her white-lace wedding dress, speculated to be the only nice dress she owned. According to the Ghost Tour's investigation, the Lady in White is most frequently seen at the cemetery's present-day burial grounds at 601 N. 4th Street, standing in her wedding day burial dress with her head down. The Tour's founder, magician and psychic Michael Henry, believes that the she returns from beyond her grave in search of her lover and father of her baby, who was never seen again after departing St. Charles.
Photo Credits
Jupiterimages/Comstock/Getty Images