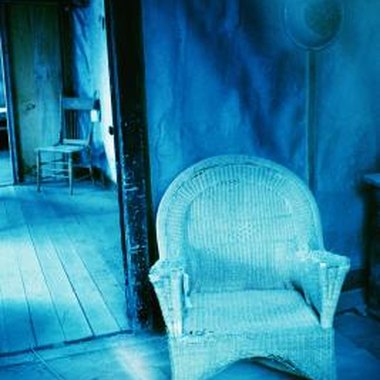 Founded by William Penn, Pennsylvania was part of the original 13 colonies and is known for its rich history. Central Pennsylvania includes Altoona, Lock Haven, Harrisburg and Johnstown. There are many stories of haunted happenings in and around these places. If you are the adventurous type, it's important to note that you may be prosecuted for trespassing if you do not first gain permission to investigate "haunted" places, though some are open to the public.
Altoona
Altoona's Lakemont Park is one of America's oldest amusement parks, opening in 1894. One of the park's roller coasters is rumored to be haunted by a maintenance worker who was killed by one of the coaster cars while performing a routine check on one of the park's new tracks. Roller coaster riders have reported seeing a man on the tracks. For a more traditional haunting, you can experience Altoona's Baker Mansion, rumored to be haunted by the matriarch of the Baker family. The mansion holds midnight tours around Halloween. People claim to have seen the woman roaming the halls. Additionally, the house has a glass case that holds her wedding dress, which has been seen moving by itself when the moon is full.
Lock Haven
If you dare to venture to Lock Haven, you may experience a haunted happening at Lock Haven University. Both Sloan and Russell halls are rumored to have spirits. Russell Hall is reportedly haunted by a ghost named Mary, who hanged herself from the bell tower. Sloan Hall, the University's arts building, is said to be haunted by three spirits. The first is a dark, menacing figure that is said to move quite rapidly. The second is a woman in white who roams the main stage of the theater. Students have also reported getting strange feelings in the studio theater on the third floor. Some equate the feeling to that of a curious child watching them.
Harrisburg
Located just outside the city limits on 200 acres of land, Harrisburg State Hospital has served as an office space for various state agencies since 2006. However, for 150 years before, the hospital functioned as an insane asylum. The unrest seems to linger, as current staff members report hearing footsteps and screams. Others have reported seeing full body apparitions.
Johnstown
Johnstown's Conemaugh Valley High School was built on land that was once an old cemetery. In fact, bodies had to be relocated at the time that the high school was constructed. Students and faculty have reported classroom doors slamming, lockers bursting open, and lights going on and off by themselves. Night janitors hear whistling and singing when no one else is in the building. Some students have seen figures that walk through walls inside the building. Outside, people have seen figures on the football field and in the student parking lot.
Photo Credits
Thinkstock/Comstock/Getty Images