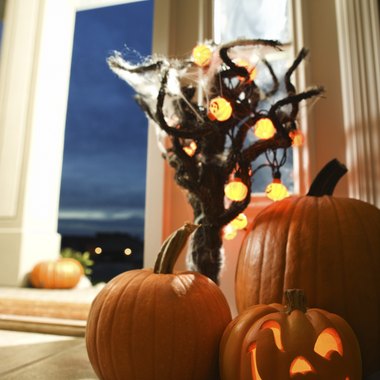 In 1900, the city of Redlands, California was known as "The City of Millionaires." Each year at the end of October, Redlands is now known for turning a bit ghoulish. With multiple events celebrating All-Hallows Eve, Redlands has opportunities for people of all ages and scare levels to participate in some spooky Halloween fun.
Horror Night at the Fox
For a haunted evening of Halloween fun, take part in Horror Night at the Fox. Held at the Redlands Fox Theater, this spooky fundraiser supports the organizations, Fight Against Blood Cancer!! and The Leukemia and Lymphoma Society (LLS). Guests are encouraged to show up in costume and participate in a haunted maze and scary contests including a zombie dress up contest. Horror Night at the Fox also features a special adaptation of "House on Haunted Hill" with Vincent Price. Attendees are asked to bring cash for food as well as for donations for LLS and Fight Against Blood Cancer!!
El Camino Ranch Fall Festival
With costumes for horses and riders, the El Camino Ranch Fall Festival will have equestrians exclaiming, "Eek!" Held at the El Camino Ranch, this Redlands Halloween event is open to both the Ranch's customers and the public. Along with the horse and rider costume contest, there is a musical cones game and a haunted walk through the Ranch's groves. During the festival, the El Camino Ranch hosts an award ceremony where students receive certificates based upon their progress in the Levels of Achievement program.
Harvest Tastes at the Asistencia
While it is a departure from the ghouls and goblins of other Halloween celebrations, the Harvest Tastes at the Asistencia is a Redlands event that honors the fall harvest in Southern California. Held in the end of October, Harvest Tastes features a gourmet brunch, recipes and cooking demonstrations of harvest food. Local farmers, growers and members of Farm Artisan Foods are also on hand to meet with guests to discuss Redlands home grown ingredients and cuisine. There is a $75 admission charge per person.
Safe Trick-or-Treat
Families with young children can take their costumed children for a safe trick-or-treating celebration in the Redlands downtown area. Each Halloween, the Redlands Business Association hosts a Safe Trick-or-Treat where small ghouls and goblins can go to downtown merchants to trick-or-treat. After filling their goodie bags with Halloween candy, spooky little ones can partake in All-Hallows Eve tales in Ed Hales Park. The sometimes scary, sometimes silly story-fest is put on by the Frugal Frigate Bookstore in Redlands. The Sixth Street School of Music is also on hand to perform for the crowds.
Live Oak Canyon Pumpkin Patch
Located on Live Oak Canyon Road, just outside of Redlans, the Live Oak Canyon Pumpkin Patch has Halloween events the entire family can enjoy. In the end of October, the Pumpkin Patch hosts tractor-pulled hayrides, a haycastle, ranch roping, live music and a trunk-or-treat for young children to participate in. These events are all free for the public. The Pumpkin Patch has 25 acres of pumpkins in varying varieties, colors, shapes and sizes. They also have pumpkin carving kits for those who want to get into the Halloween spirit by making festive jack-o-lanterns.
Photo Credits
Thinkstock/Comstock/Getty Images