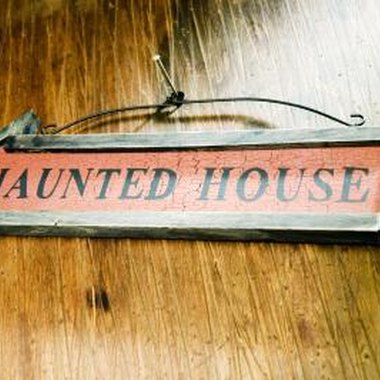 Families looking to begin the holiday season with for an unforgettable Halloween event will easily find kid-friendly gatherings all over the country. Because Halloween is for kids too, many haunted attractions designate special times for families with children and plan performances specially catered to children. Although many attractions recommend appropriate ages for their guests, it's important for parents to use their own judgment when choosing an activity.
Family Farms
Family farms in the Midwest -- and all over the country -- gear up for Halloween by planting acres of pumpkin patches, cutting corn mazes and baking scrumptious desserts to celebrate Halloween family-style. Farms advertise Halloween and harvest festivals complete with haunted houses or barns in addition to toddler-sized fun such as picking your own pumpkins and pony rides. In October 2011, more than 15 large family farms planned Halloween festivals the Chicago area alone.
Haunted Houses
Most people enjoy creepy ghouls, scary clowns, werewolves and vampires on Halloween, but these monsters can may be too frightening for younger children. With this in mind, some attractions clean up their act for children -- at least on a few designated days during the holiday season. For example, in 2010, Tim Haskell's New York City's Nightmare Haunted House set aside hours in October for children, and, for a few hours, the monsters were replaced by kid-friendly clowns, jugglers and other performers who delighted the little ones, rather than scaring them.
Mystifying Mazes
Mazes are fun for older children who like to investigate, and October is full of opportunities to explore Halloween mazes full of dark corners and dead ends. Let the children see how fast they can run through a haunted maze, or take some time to enjoy the decorations and the creative costumes and actors inside. Theme parks all over the country celebrate the holiday with special events and attractions including mazes. Six Flags theme parks celebrate Fright Night on Friday, Saturday and Sunday evening every October. In 2010, Six Flags Magic Mountain in Southern California offered seven different mazes toned down to a PG rating, and nearby Knott's Berry Farm in Anaheim offered a daytime program for kids that included trick-or-treating and a pirate maze.
Hayrides
The smell of sun-scorched hay, the bouncing dirt road and the squeaky sound of tractor tires all join to make a Halloween hayride an experience kids recall for years. Texas has no shortage of Halloween attractions that accommodate families. In 2010, Broken Trail family entertainment complex transformed its raceway grounds into a hayride and slaughter house, and on one night in October, families turned out for a costume party with trick-or-treating just for children.
Photo Credits
Jupiterimages/liquidlibrary/Getty Images