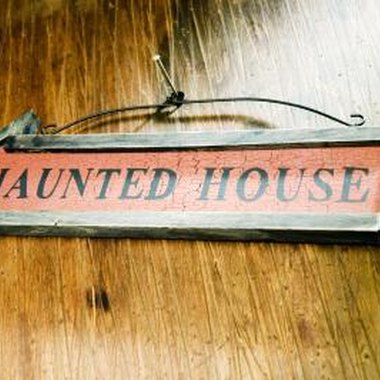 Newport, Kentucky is just south of the Kentucky/Ohio border. Halloween attractions in Newport, as well as nearby Cincinnati, Ohio, provide hours of "haunted" family fun for Halloween adventure seekers. Newport is a riverfront city with plenty of old Southern charm and modern development. Newport puts visitors in the heart of the Ohio Valley, and close to many places where Halloween entertainment is at its best.
USS Nightmare
The USS Nightmare is right on the riverfront in Newport, Kentucky. This haunted steamboat, formerly known as the William S. Mitchell, is a part of the Nightmare Landing Halloween attraction and has been thrilling visitors for 19 years. The USS Nightmare features actual news footage of the 75 years old ship's destruction that informs and entertains guest as they wait to board the ship. The first stop inside the USS Nightmare is the Mitchell Museum, which leads to exploration of the ship itself. Animatronics monsters and twists and turns keep passengers on their toes as they make their way through the haunted boat.
Haunted Kings Island
Just north of Newport, Kentucky, in Mason, Ohio, is Kings Island Amusement Park. During October, Kings Island transforms into a haunted collection of Halloween attractions. Kings Island features its Halloween Haunt with 12 haunts, two live shows, 18 thrill rides and a large cast of monsters of all shapes and sizes. Adults and older children will enjoy this scary amusement park experience, complete with a haunted werewolf forest, a slaughterhouse for animals and people, and a trail of terror.
Mount Healthy Haunted Hall
Just a short drive south from Newport, Kentucky is Mount Healthy, Ohio. Mount Healthy gets in the Halloween spirit with Mount Healthy Haunted Hall. The Haunted Hall welcomes visitors into this haunted experience through a frightening cemetery with half-alive people trying to escape the inevitable. Inside the hall, a shaky elevator takes unsuspecting victims to a mad scientist's lab, with the only escape through a coffin. Once outside the lab, visitors are greeted by an executioner in a military detox zone.
Sandyland Acres Haunted Hayride
About 30 minutes west of Newport, Kentucky, is the Sandyland Acres Haunted Hayride. In the town of Petersburg, Sandyland Acres Haunted Hayride offers fun for all ages. The hayride host is Mortimus, a creepy mortician who guides hayride travelers along the trail that begins at the Bates Motel. Riders watch out for unexpected attacks from spooky scarecrows, automobiles careering out of control, piercing sirens and screams from residents escaping from the local asylum. Other crazy characters and situations follow the hayriders on their way to the grand finale taken straight from the pages of Nightmare on Elm Street.
References
Photo Credits
Jupiterimages/liquidlibrary/Getty Images