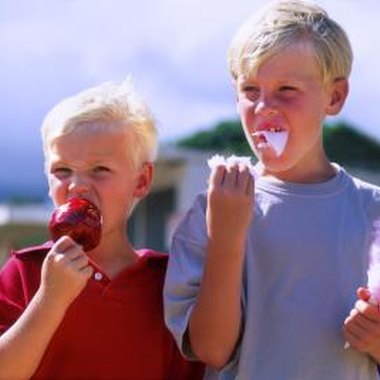 Sheridan, Indiana, is located in the northwest corner of Hamilton County. Since 1992, the town has produced the Sheridan Harvest Moon Festival, which usually takes place during the first weekend of October. The festival is held at the Biddle Memorial Park at the corner of Route 38 and Route 47. The festival is open to the public. Admission is free.
Great Pumpkin Chuck Catapult Competition
One of the most popular highlights of the festival is the Great Pumpkin Chuck catapult competition. There are two classifications of groups, students and adults. Contestants see how far they can chuck their pumpkin with home-made catapults. Winners from each group receive a trophy.
Other Highlights
Other annual activities at the fair include the Classic Car Show, a Motorcycle Drive-In and a Kiddie Tractor Pull. No festival would be complete without the amusement rides. The Children's Carnival usually runs from Thursday evening through Sunday. Other regular events include a bake sale, arts and crafts booths and games.
Musical Entertainment
The festival also showcases some of the finest local bands in the area. There's something for everyone, with musical genres as far-ranging as gospel, country and rock. Even the Sheridan High School Band gets to show their stuff. It is the first band to open up the festival on Saturday morning.
Off-Site Attractions
There are also some festival events that take place away from Biddle Memorial Park. The annual Masonic Lodge Breakfast is held on Saturday morning, at the lodge on White Street. On Saturday evening, the Sheridan United Methodist Church, located on East Second Street, holds its annual Coal Supper. The American Legion, located on Route 47, also hosts adult bingo games on both Saturday and Sunday during the festival weekend.
References
Resources
Photo Credits
Thinkstock/Comstock/Getty Images