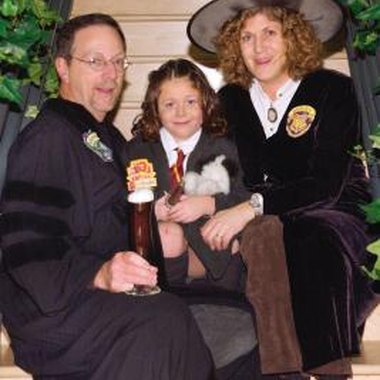 J.K. Rowling's "Harry Potter" books transport readers to an unforgettable world of mystery and suspense. Just because the series has finished doesn't mean the magic has to end. For a Harry Potter party, you can recreate Rowling's world and give your guests a magical time.
Craft Activities
Give guests hard-boiled eggs to color gold, either with Easter egg dye or paint. Guests can then glue wings onto the sides of the eggs to create "snitches." Buy small plain bean bags and supply the guests with colored felt, yarn, scissors and glue to decorate the bags as gnomes. Guests can then swing the gnomes over their heads and throw them towards a target several yards away for a sporting "de-gnoming" activity, as the Weasleys did in "Harry Potter and the Chamber of Secrets." Give guests clay, pipe cleaners, paper and other art supplies for a monster-building competition.
Food Activities
Jelly Belly makes "Bernie Bott's Every Flavour Beans" in a variety of flavors ranging from banana, blueberry and marshmallow to "dirt," "booger" and "earwax." Set up "taste tests" wherein guests compete to correctly identify the flavors. Chocolate frogs with collectible wizard trading cards are also available. Guests could eat the frogs and swap cards to get complete sets. While the Internet abounds with recipes for butterbeer, guests may enjoy inventing their own versions of the frothy wizard potable with a variety of ingredients that you supply.
Costume Contest
You can't call it a Harry Potter party if everyone is dressed like a Muggle. Inform guests beforehand that there will be a costume contest and outline different categories of costume that will be judged, such as Hogwarts student, Hogwarts professor, Voldemort, elf and monster, to ensure a variety of looks. Guests can judge the costumes for categories in which they aren't competing and winners should receive a small prize, such as a chocolate frog.
Quidditch
No Harry Potter party would be complete without a game of quidditch. Erect three hoops at either side of your yard or large space, supply broomsticks and a small soft ball and have the guests play an earth-bound game of quidditch. Obviously, the rules will need to be altered and you will be using just one ball but running around on broomsticks, passing the "quaffle" and trying to get it past the keeper of the hoops can still be great fun.
Photo Credits
Lawrence Lucier/Getty Images Entertainment/Getty Images