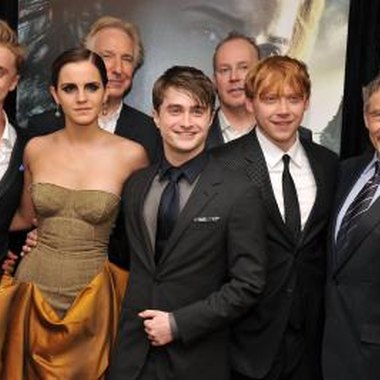 The only bad thing about reading the Harry Potter books or watching the movies is not being able to join the students of Hogwarts on an adventure. Never fear though, as Universal Studio's theme park, The Wizarding World of Harry Potter, takes guests into a realm of magic. The park features all your Harry Potter favorites, from pumpkin juice to the grounds of Hogwarts, making the stories come alive.
Hogsmeade
Visit the wizard village of Hogsmeade, where Harry Potter and his friends visit when not in class. The theme park edition of the village evokes the quaint feeling of the town described in J.K. Rowling's books and contains various points of interest. Purchase souvenirs and magical trinkets, such as a sneakoscope, at Zonko's Joke Shop. Next, drink a glass of butter beer at the Three Broomsticks before sending a letter from the Owl Post, which will bear a Hogsmeade postmark.
Harry Potter and the Forbidden Journey
Explore the Hogwarts School of Witchcraft and Wizardry on Harry Potter and the Forbidden Journey, a fast-paced ride that takes guests on a trip into the magical realm. Guests take a seat and visit locations such as the Gryffindor common room, Dumbledore's study and the Room of Requirement. Next, the ride takes guests soaring over Hogwarts as their seats twist and move to make it feel like they're really flying. Just be wary of Dementors and giant spiders.
Dragon Challenge
Compete in the Triwizard Tournament just like Harry by riding the Dragon Challenge, a pair of dueling roller coasters. Guests can see the flaming Goblet of Fire and behold the ultimate prize, the Triwizard Cup, before climbing aboard the dragon coaster of their choice, the Chinese Fireball or the Hungarian Horntail. The roller coasters twist and turn at a high speed, nearly colliding as they arch into the sky. Each dragon coaster is different, so visitors are encouraged to try both.
Flight of the Hippogriff
Visit some of Hagrid's favorite magical creatures and explore the grounds of Hogwarts on the Flight of the Hippogriff, a ride that takes guests flying over the castle grounds. Described as an "enchanting family coaster" by the official park website (universalorlando.com/harrypotter), guests settle into wicker-covered cars flanked with feather-like leaves. After bowing to the regal Hippogriff, the ride zips and zooms around the castle pumpkin patch and passes Hagrid's hut.
Resources
Photo Credits
Stephen Lovekin/Getty Images Entertainment/Getty Images