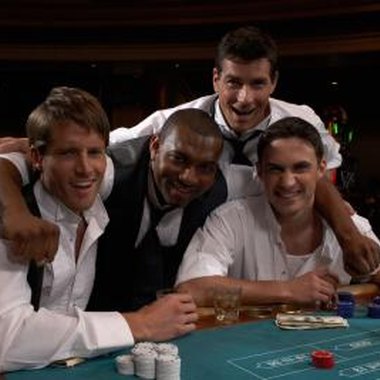 Harrisburg, the capital city of Pennsylvania, has much to offer you and your friends for your bachelor party. You don't have to buy into the stereotypical bachelor party involving a night of debauchery that you might regret. Seek out some of these local alternatives that can be found only in Harrisburg and the surrounding areas for a stag party you won't soon forget.
Brewery Bachelor Party
With different local breweries to choose from, including Appalachian Brewing Company (abcbrew.com; 50 N. Cameron St., Harrisburg; 717-221-1080) and Tröegs Brewing Company (troegs.com; 800 Paxton St., Harrisburg; 717-232-1297), Harrisburg has a lot to offer the budding beer connoisseur on the eve of his wedding. Give your groomsmen a chance to tour a Harrisburg brewery, which can also include beer tasting and food. Brewery tours at the Appalachian Brewing Company don't require a reservation, and begin at 1 p.m. every Saturday afternoon. Call ahead to inquire about private parties. You can enjoy more beer and food at the brewery pub following your tour, or turn it into a brewery crawl by following up your ABC visit with a tour of Tröegs Brewing Company. Tours at Tröegs are also free and begin at 1:30 p.m., 2 p.m., and 2:30 p.m. on Saturdays, but a reservation is required, which can be completed online.
Shooting Range
Let your groomsmen unleash their inner wild man by inviting them to a shooting range. A complete list of shooting ranges open to the public can be found at Pennsylvania's state website. The ranges closest to the Harrisburg area are located in York and Dauphin. Reservations can be made at public shooting ranges by contacting the range at least 20 days in advance. Ranges are open from 8 a.m. until sunset. There is increased activity at the shooting ranges just before peak bear and deer seasons. As of June 2011, a $30 range use permit is required for anyone shooting at the shooting ranges. Contact the Pennsylvania Game Commission headquarters in Harrisburg at 717-787-4250 for information on bookings, or call the Southeast regional game commission office serving Dauphin County at 610-926-3136.
Nature Hike and Camping
Take advantage of the natural beauty of southeast Pennsylvania by inviting your bachelor party guests to get back in touch with nature on a day hike or camping trip. Fill your cooler with beer and sandwiches, grab your tent and hiking boots, and choose one of the many campgrounds and trails listed on the Lebanon-Harrisburg-Carlisle section of the Local Hikes site. From low-key walks in the woods (Choke Creek Nature Trail Loop) to challenging terrains with the promise of waterfall vistas (Lewis Rocks Loop Trail), planning a Harrisburg bachelor party in the scenic hills of Dauphin County will help keep your costs low but morale high.
Nightclubs
Feel like sticking to the more traditional bachelor party formula? Harrisburg has an exciting nightlife scene. Prive (no website; 20 N. Second St., Harrisburg; 717-234-7508) is a martini bar located downtown on Second Street, in the space formerly occupied by Noma. For a younger crowd, try the Bourbon Street Saloon (no website; 37 N. Second St., Harrisburg; 717-333-4324) for beer on tap. Eclipse (no website; 236 N. Second St., Harrisburg; 717-221-0530) is a classic nightclub dedicated to music and dance, but without the strict dress code you might find at more exclusive establishments. Call ahead to discuss the possibility of a VIP room for your bachelor party or to reserve the space for an evening.
Photo Credits
Erik Snyder/Digital Vision/Getty Images