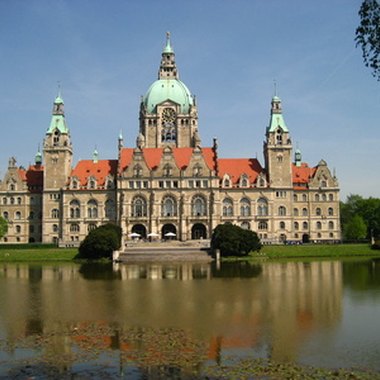 Finding the right hotel in Hanover, Germany, is not difficult. The city's large variety allows guests to choose according to their preferences in style, price and place. There is a hotel for every taste, whether it is historic elegance, urban chic or easy access to nature. As many hotels are individually owned, they provide a unique settings, giving their guests good insight into the region's history and culture.
Central Hotel Kaiserhof
The Central Hotel Kaiserhof resides in the heart of Hanover's downtown within easy reach of the main train station, the opera and the theater. Its historic facade opens to a carefully designed interior that combines a classic elegance with a homey country house style. The 80 rooms are decorated in warm and welcoming colors and feature plush furniture, classically patterned fabrics and natural stone bathrooms. Amenities include soundproof windows and a complimentary breakfast buffet. The hotel has two restaurants, a sun terrace and beer garden, and a Viennese-style coffee house.
Kastens Hotel Luisenhof
The luxury hotel Kastens Hotel Luisenhof welcomes guests with its impressive art nouveau facade, which leads to a sophisticated interior of stucco walls, upscale furniture and antique art paintings. Contemporary furniture in natural tones accommodate guests in the 146 rooms and suites that feature high-tech amenities and panorama windows; some suites include a private rooftop terrace. Mornings at the hotel start with a breakfast, then guests can stroll around the city center or enjoy the wellness area with sauna, steam bath and fitness room. A gourmet restaurant serves regional and international cuisine in the evenings. The hotel is located in Hanover's downtown area.
Grand Hotel Mussman
Situated in the city center only a few steps from Hanover's main train station, the Grand Hotel Mussman provides a convenient location for exploring Hanover and its surrounding countryside. Guests sleep in spacious rooms and suites that are named after Hanover's famous park and gardens and utilize natural materials like marble, leather, granite and organic cotton. All rooms come with soundproof windows and rain showers. A wellness area with sauna encourages relaxation amid the busy streets of Hanover. The hotel also owns a restaurant within walking distance that specializes in traditional German cuisine.
Courtyard Hannover Maschsee
Nestled at the shores of Hanover's beautiful Lake Maschsee, only 0.7 miles from the city center, lies the hotel Courtyard Hannover Maschsee. Guests enjoy a panoramic views of the lake from the 149 rooms and suites, which feature a light and airy ambience with large windows, warm colors, exquisite textiles and plush furniture. The hotel gastronomy includes a restaurant with a lake view sun terrace and a summer beer garden. Various recreation facilities and activities like sailing, biking, tennis and the nearby beach allow guests to relax and de-stress.
Photo Credits
neue rathaus hannover, niedersachsen image by guentermanaus from Fotolia.com