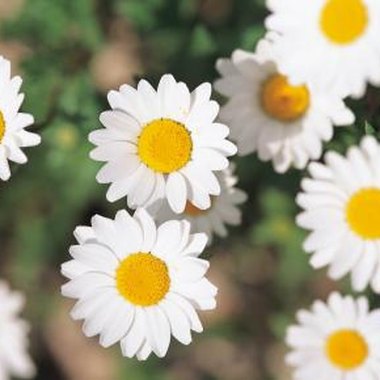 Daisies are a colorful, fun and fresh choice for a wedding theme and the actual flowers for the special day. The bright blooms are especially popular for spring and summer weddings. They can even be used in the autumn in richer, darker colors as they are available year-round. Handmade wedding invitations will introduce the guests to the theme of daisies and their simple beauty. They can be simple or complex, but the overall effect will be lovely.
Stamped Daisies
A simple handmade wedding invitation that will carry through the theme of the daisy is with a stamped card. The stamp can be made with clay or inexpensively purchased from an art supply or craft store. Ink in the wedding colors should also be purchased. Simply print the invitations with the appropriate information and stamp some colorful daisies around the edge, forming a border, or in a corner for a more artistic flair. The guests will appreciate the effort, but the process will be simple and come out looking elegant.
3-D Invitations
An interesting way to showcase the daisy theme is through an unconventional three-dimensional invitation. Purchase silk gerbera daisies in the wedding colors and snip off the wire stems so the blooms lie flat. Choose a corresponding color for the card backdrop and a wide type of ribbon. Measure the ribbon so it fits snugly around the card. Hot glue the ends of the ribbon together to form a loop that fits over the card, then hot glue the daisy to the top of the ribbon and slide the ribbon onto the card. The card will house the pertinent information, but the invitation will have the wow effect upon presentation. This is an especially effective method for small, intimate weddings with a short guest list.
Die-Cut Daisies
A rectangular card can have the cover die cut to form the delicate petals of a daisy in the wedding colors. The cover will have the real effect on the visual elements of the card, while the important information will be held inside the card. This is an opportunity for a handmade invitation that looks professionally done due to the detail of the die cut. These machines can be purchased or rented from art supply and craft stores. They simply cut out specific images used primarily for invitations and scrapbooking.
Pictorial Invitation
Take a picture of a single daisy bloom against a white backdrop and have it printed on white cards. Print the pertinent wedding details on rectangular pieces of vellum or tracing paper. Glue the edges of the printed information sheet onto the pictorial card for a simple, handmade invitation. The effect of the bright bloom will shine through the vellum, but the important information will not be missed. The card will look like a simple photograph from afar, and this effect will reinforce the wedding theme.
Photo Credits
Hemera Technologies/Photos.com/Getty Images