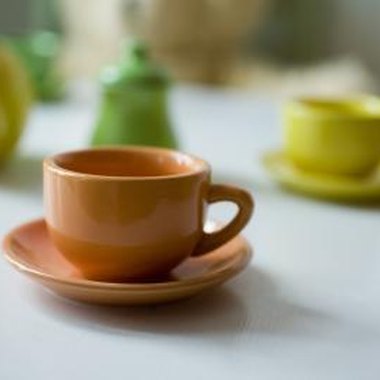 Even if you and your friends don't know an Earl Grey from an English Breakfast, a tea party can provide a chance for you to get together and enjoy a drink, some light snacks and each other's company for an afternoon. Handmade favors will help your guests feel welcome and appreciated as they relax and take a break from their daily stresses at your upscale tea party.
Edible Favors
No tea party is complete without trays full of cookies and pastries. Once you've made treats to serve at the party, you're bound to have plenty of leftovers, so turn them into favors. Fill plastic bags or small boxes with leftover goodies, or bake a batch of treats especially for the favor bags. Use a favorite family recipe for cookies or fudge, or cheat a bit by buying treats from a gourmet bakery. Once you've packaged these desserts, guests will never know you didn't bake them yourself. Hand the bags out at the end of the party.
Tea Favors
Passing out tea favors at a tea party may seem a little on the nose, but there's no gift more fitting. As a bonus, tea favors are affordable and easy to put together. Buy a large bag of loose tea from a local tea shop or kitchen store and divide the contents into smaller bags for each guest. Tie colorful ribbons around the tops of the bags to make them look festive. If you're feeling adventurous, buy several bags of different varieties of loose tea and mix them up to create a new custom flavor.
Plant Favors
Just the phrase "tea party" calls to mind images of rosebushes and garden receptions, so planted favors are ideal. Not only do plants make attractive favors, but guests can also continue to nurture them into full-grown plants after the party. Dig individual blooms out of your own garden and replant them into teacups bought from antique shops. If you're not known for your green thumb, buy a planter full of flowers from a garden store and replant individual blooms into smaller containers to pass out at the end of the party.
Dishes
If your friends are more of a jeans-and-T-shirts crowd, your tea party may be the most dignified event they attend all year. Sending each guest home with her own personalized teacup gives each guest the chance to ditch her chipped coffee mug in favor of a bit of elegance every day. Buy plain white ceramic teacups from a kitchen supply store and paint one for each guest. Draw designs or each guest's initials onto the cup using paint designed for use on ceramic or porcelain. When the paint dries, apply two coats of clear glaze over the painted design on each cup.
Photo Credits
Jupiterimages/Photos.com/Getty Images