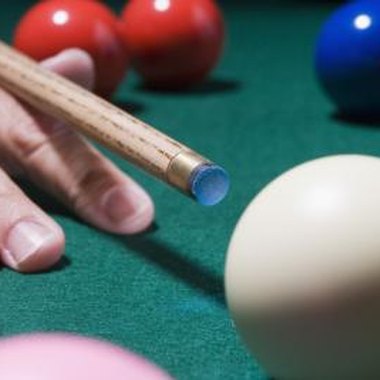 A snooker cue seems like a simple enough object, but it has many features that can be modified to suit individual players. Choice of material is key when configuring your handmade cue. Deciding on its structure is another important matter. Beyond that, there are several more personalization options, including whether or not to have it embellished with your name. You might even want to pay tribute to a snooker hero in your cue design choices.
Wood
You can have your snooker cue made out of virtually any wood, but as a general rule, softwoods are used on cheaper cues and hardwoods on more expensive ones. Canadian ash and maple are popular, as is the ebony family. Canadian ash is similar to oak in strength, according to wood products specialist Professor Daniel L. Cassens. Maple is often highly decorative and frequently the choice for billiards cues. Ebony is known for its dark color and dense texture.
Cue Structure
Snooker cues are traditionally about 57 to 58 inches long. You can buy your handmade cue as a one-piece cue or a two-piece cue. The latter is usually known as a 3/4-jointed, as the joint is about three quarters of the way down the shaft. You usually also get a 6-inch mini extension to screw into your butt to make your cue long enough for awkward shots. Medium weight cues are typically 17 to 18 ounces, with heavy cues ranging from 18 ½ to 20 ounces. The weight is achieved with the addition of lead pieces in the shaft.
Decoration
Having a snooker cue made for you gives you the opportunity to have it decorated precisely as you want it. Different woods can be used as veneers and splices on your shaft and butt to create patterns as intricate as you like. However, the more complex the design, the more likely the cost will rise, as the work involved is labor intensive. Another approach favored by some customers is to buy a cue that replicates the cue of an admired player. One company manufactures the "Alba," a replica of Ronnie O'Sullivan's cue.
Personalization
As well as choosing the material, structural form and decoration of your handmade cue, you can make choices in several other areas to personalize it. At least one company offers choices for the cue's tip, the all important contact point with the cue ball. Further, you can choose a hand grip to suit your playing style. Finally, you can have your name engraved by laser or printed onto your shaft by silk-screen technology, if you wish.
Photo Credits
BananaStock/BananaStock/Getty Images