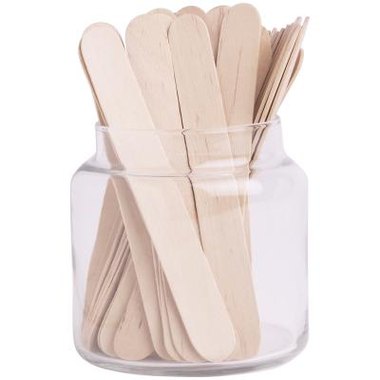 Design a quirky Popsicle-stick lamp for display in a child's room, living room, or anywhere else you require a lamp. A Popsicle-stick lamp will be an instant focal point and conversation piece no matter where you place it. Popsicle sticks can frame a lamp with rice paper or vellum for a tabletop or as a hanging lamp. Alternately, fashion a Popsicle-stick lamp after a boat, a house, or an abstract design.
Lamp Base
Stack a series of Popsicle sticks or large tongue depressors into a spiral tower to make a base for a table lamp with a shade. Stack the sticks on top of each other to determine a suitable height for the lamp base. Glue them in a staggered pattern to create the spiral effect. Drill a hole for the lamp hardware through the center of the spiral and insert the hardware through the top of the spiral base. Affix the spiral onto a platform of Popsicle sticks. If you only have regular Popsicle sticks to build the tower with, glue the spiral around the lamp hardware instead of drilling a hole. Regular Popsicle sticks are thinner and may crack or break if you attempt drilling them. Add a plain lampshade in white or cream.
Shoji Lamp Design
Build a Shoji-inspired lamp using Popsicle sticks and rice paper or vellum. Begin with a platform of Popsicle sticks glued together to form a base for the lamp. Next begin building a rectangular column with the sticks. Alternate a stick for each side until you gradually attain your desired height. For the light, use flameless tealights or a small bulb attached to a cord. Center the light in the middle of the platform. Insert your choice of paper and affix it to the inner walls of the lamp.
Hanging Lamp
Begin with a hanging lamp kit, which you can find at craft and hardware store. Lamp kits come in a variety of finishes including white, black, and brass. Popsicle sticks form a frame for the hanging lamp. Insert the lamp hardware. Wrap the frame in colored paper to act as a lamp shade. Ideas for paper include colorful scrapbook pages, printed wrapping paper, and any other paper with a visually appealing pattern. Look for graphics such as damask, polka dots, retro geometrics, and over-sized florals.
Novelty Ideas
Create a boat entirely made of Popsicle sticks. Paint the sticks with nautical colors and themes. For instance, paint the sticks alternately navy, white, and red with stars, anchors, and wave patterns on some of them. Insert the lamp hardware into the design to allow space for the cord to exit the structure. The light should rest on the deck of the boat with the cord neatly exiting the back of it. Continue to build around the light. Another idea is to design a doll house with painted Popsicle sticks and illuminate it with light. Choose a rainbow color scheme, a monochromatic lavender palette, or leave the sticks in their original hue.
References
Photo Credits
Dynamic Graphics Group/Dynamic Graphics Group/Getty Images