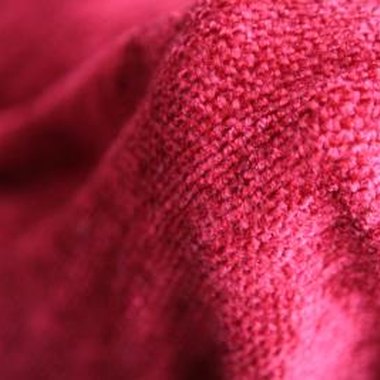 Chenille is a light-weight fabric with stand-up fibers woven into it. Chenille comes in a broad array of colors and designs. Often used for bedspreads and housecoats, it affords an unique opportunity for the recycling quilter; but it can also be purchased as yard goods. Although somewhat difficult to sew, it offers interesting design options.
Recycler's Nine-Patch
Collect up those old chenille spreads and housecoats from home, and shop at yard sales to round out the collection. Cut the items into squares and organize them into nine-patch quilt patterns. Combine them directly or intersperse the blocks with strips or blocks of fleece or flannel in complementary colors. Quilt using a low loft batting, or just sew directly onto a recycled sheet to use as a spread.
Cute-n-Fuzzy
Combine chenille quilt blocks with a soft flannel or acrylic fleece backing, then stitch the large blocks together raw-edge quilting style. The soft chenille and fuzzy edges of the deliberately frayed exposed seams make a cozy throw for the couch or a spread for a child's room. Instead of using a standard quilt batting, back your creation with soft acrylic fleece.
Landscape a' la Chenille
Use a blue sheet as a background and applique various pieces of chenille to represent grass, water, fluffy clouds, flowers or animals. Take advantage of chenille designs that are made in floral shapes to create some of the landscape. Use as a wall hanging or a spread. Back with a second sheet, or quilt using low-loft quilt batting.
Furry Stripes
Locate chenille fabric on which the fibers are arranged in stripes or similar geometric patterns. Stitch the strips together to create bands of color and texture, or experiment with diagonals or even log cabin pattern strips. You could even create bright swirls or diamonds using strips. Stitch to a brightly colored sheet for added interest.
References
"A History of Quilting and How to Make Them"; M. D. Webster; 2010
"Quilts Around the World: The Story of Quilting from Alabama to Zimbabwe"; S. Gillespie; 2010
"Quilter's Complete Guide"; Marianne Fons' 1993
Photo Credits
Jupiterimages/Photos.com/Getty Images