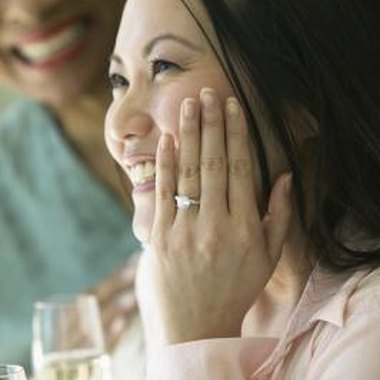 If you wish to lend a personal touch to engagement party invitations, you might consider making your own. Not only will handmade invites make an impact on your invitees, but the DIY approach can save you money, as well. A visit to your local craft store is all you need in order to get started.
Card Stock
Your local craft store or even some chain discount stores feature stationary departments or wedding supply sections. You can find an array of card stock and envelope options, from solid-colored papers to kits that let you prepare formal invitations. Depending on the theme and format of the engagement party, you might select invitations accordingly. For instance, a backyard barbecue may lend itself to a more casual invitation than would an event at a country club.
Invite details
Once you have selected your card stock, it is time to get all of your event's details down on paper. But before you embark on this step, you'll want to mentally lay out your invite so you can organize space for both text and any embellishments you may wish to add later. If you have nice handwriting or know calligraphy, you may choose to write the invitations by hand. For the sake of time, you could also type the text on your computer and run the invitations through your printer, assuming the card stock allows for such. Feel free to get creative with the message and language as long as you include all relevant details such as date, place, time, RSVP information, and whether there is any sort of gift policy.
Embellishment
Now that the invites are printed, you have the opportunity to customize them to your heart's content. You might want to use stickers, rubber stamps, stencils, decorative hole punches or other themed decorations. These items are often found in the scrapbooking department at your craft store, where you can find many wedding-specific embellishments. If you are selecting puffy stickers and other dimensional charms, just make sure they will not interfere with the envelope's closure. Alternatively, you could use watercolor paints, colored pencils or another medium to add extra interest to blank cards.
Postage
If you have selected an invitation that seems to be a non-standard size, be sure to confirm with your local post office that you are including the correct amount of postage on your cards. The postal service often offers stamps that have a celebratory theme, and you may wish to utilize these to further customize your effort.
Photo Credits
Barry Austin Photography/Photodisc/Getty Images