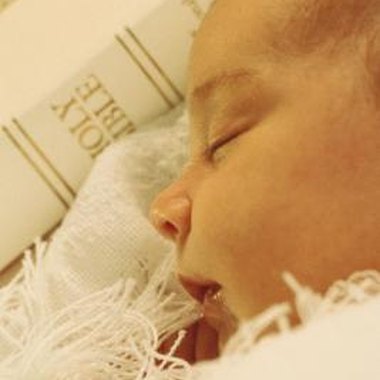 Invite relatives and friends to your baby's christening or baptism with invitations made yourself. Handmade invitations are more personal than store bought invitations and are sometimes less expensive. Guests will save and cherish your homemade invitations for years to come. You can frame an invitation alongside a picture of the event for a lovely keepsake.
The Easy Way
If you are not very artistic or are busy, then the easiest way to acquire handmade christening invitations is to commission them from a professional artist. At etsy.com, for example, you will find a number of artists selling customized invitations. Many of the invitations are personally designed on a computer and mass printed, which might not be as intimate as you'd like. Some artists will incorporate a picture of your baby into the design. When ordering invitations online, make sure to verify whether you will be receiving the invitations with or without envelopes and ready to mail or as a design in a computer file that you will need to print and copy yourself.
The Natural Way
For the opposite type of person, one who is very artistic and has a lot of time, consider purchasing invitation paper, envelopes, seals and ribbons and using them to make each individual invitation yourself. Soft colors like white and gold are the most appropriate for a christening. Write the information about the event's time and place neatly and by hand. Doing this will let each guest know that you care about have them in attendance. If you'd like, you can include a photograph of your baby in the invitation.
The Technical Way
Perhaps you don't mind having your invitations printed from a computer, you just want a certain kind of look or specific wording. In this case, you can find invitation templates online at sites like do-it-yourself-invitations.com. Type in your information to the template and add any pictures of your own, save it to a flash drive and take it to a nearby printing center like Kinkos/FedEx. Bring your own cardstock if you'd like something specific. For extra decoration tie a ribbon around each invitation before putting it in its envelope to send.
The Fancy Way
Scrapbooking stores sell small paper and plastic decorations that resemble christening gowns, crosses, baptismal fonts, etc. Purchase and attach these with glue either to blank invitation cards or to cardstock with the information about the christening event printed on one side. The invitations do not need to be identical. Use different combinations of embellishments on the different invitations to help personalize them. Make sure to buy loose envelopes because the embellishments will stick up from the card and make your invitation extra thick.
Photo Credits
Comstock/Comstock/Getty Images