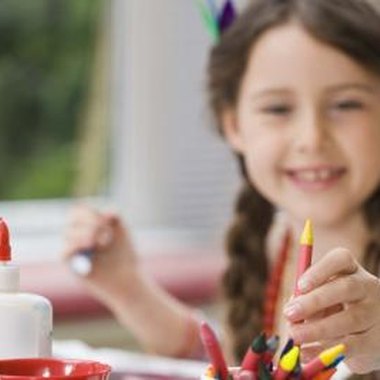 Set the young and fun tone for a children's party with handmade children's party invitations. Depending on the age and abilities of the party child -- and the amount of cleanup you want to do -- you can engage his or her help with creating the invitations. Several simple ideas work for most ages, although you might want to write in the party details with a steady, highly legible adult hand.
Basics
The most important part of the invitation, regardless of who makes it, is ensuring the details are legible and clear. The invites should outline the name and age of the birthday celebrant, along with the time, date and place of the party. Additional details can include the type of party it is, such as a pool party or a lunchtime bash, and special instructions can include how attendees should dress or what they should bring.
Shapes
Simple shapes can make simple yet fun handmade invitations, and one of the easiest ways to go about it is by cutting out shapes as the base of the invitations. Play around with circles, squares, triangles, stars or any other shape that suits your fancy. More elaborate shapes include balloons, a birthday cake or party hat. The cut-out can be from a single sheet of construction paper to create a postcard-type invitation with all the information on the front of the card, or you can fold a piece of paper and leave the left margin connected, cutting out two-ply invitations with the shape as the front and center of the card.
Theme
Handmade cards that follow a theme work to reflect a party that also has a theme. Opt for a color of construction paper or card stock that suits the theme, such as a light blue for an under-the-sea party, and use the shape idea for invites shaped like fish, shells or an octopus. Pick a bright pink for a floral-themed party with cut-outs that resemble a giant head of a flower. Instead of cut-outs, theme invitations also work well with illustrations of the theme around the borders or on the front as a main drawing with the words "You are invited" or "Come to Jane's 8th Birthday Party" above, below or in the center of it.
Text and Decoration
A dark-colored text on a light background color provides optimum visibility and legibility, although the opposite also works. Try a black background with a white paint marker. Regular markers, paint markers and paint all work for both the text and illustrations, using a variety of wide and narrow points to best serve the purpose. Additional decorations for handmade cards can include stickers and glued-on items, such as glitter, ribbon, lightweight beads or baubles, sequins, photos and clippings from magazines. A water-soluble craft glue is strong enough to hold most lightweight items on paper and provides for easy cleanup.
References
Photo Credits
Jupiterimages/BananaStock/Getty Images