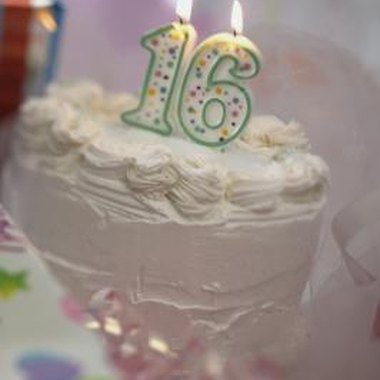 Michigan event halls offer a young girl the opportunity to invite her family and friends to a celebration of her entry into young womanhood. Due to Michigan's unpredictable weather patterns, a family celebrating a Sweet 16 birthday may choose to book a hall rather than rely on an outdoor venue. Michigan has a wide variety of halls throughout the state that offer a girl and her family choices to fit varied budgets.
Detroit Area
Detroit-area girls and their families have a wide selection of halls in which to hold the Sweet 16 celebration. The Andiamo (andiamoitalia.com) restaurants, located throughout the Detroit area in Warren, Grosse Point Woods, Bloomfield Township, Royal Oak, Sterling Heights, Dearborn, Novi, Livonia, Mesquite Creek and the Detroit Riverfront offer private banquet rooms to allow a girl to hold her Sweet 16 party in her own community. Event rooms feature technical capabilities, which permit the family to display movies of the Sweet 16 girl during the party. Families can bring entertainers who have the use of the on-site podium and microphone that each event room provides. Andiamo offers families planning a Sweet 16 on-site or off-site catering options. Other elegant Detroit banquet halls include the hall at the Colony Club of Detroit (colonyclubdetroit.com) and the Westin Airport Hotel (starwoodhotels.com/westin).
Western Michigan
Events halls for Sweet 16 birthday parties in Western Michigan, between Detroit and Chicago, include Kalamazoo's Latvian Hall (saites.org/centrs-3.htm) where you can hold a Sweet 16 for up to 255 people. The on-site kitchen allows families to cook the food for their Sweet 16 in the hall or warm up catered food. The Foundations Banquet Center (thefountainsonline.net) of Kalamazoo provides upscale, full-service facilities for various types of events, including Sweet 16s. In Grand Rapids, families of the Sweet 16 girl can find private banquet rooms at restaurants, allowing them to hold a gracious formal party. Grand Rapids restaurants with private event rooms include the Tre Cugini (trecugini.com/banquets-catering.html), which serves an Italian menu and Charley's Crab (muer.com/), which provides private parties with a delicious seafood menu.
Northern Lower Peninsula
The forests and beautiful terrain of Michigan's Lower Peninsula offers a beautiful backdrop for an enchanted Sweet 16 party. The Terrace Inn (theterraceinn.com/events.asp) of Petosky can seat up to 110 guests who will enjoy the homey atmosphere of the Inn's events room and the delicious food provided by the Inn's chef. Families celebrating a Sweet 16 may bring the family to Mackinaw Island's Grand Hotel (grandhotel.com/celebrations) where they can make the Sweet 16 party a day of swimming, biking and hiking before retiring to the main dining room's reserved section for the Sweet 16 party. Mackinaw Island sits between Michigan's Upper and Lower Peninsula.
Upper Peninsula
Residents and visitors to Michigan's Upper Peninsula can find a variety of venues for a Sweet 16 party. In Marquette along the Upper Peninsula's northern border, the Landmark Inn (thelandmarkinn.com/meetingeventspace.php) in historic downtown Marquette, has two event halls for families to celebrate their young lady's Sweet 16. The Sky Room and the Harbor room both offer a scenic view of Lake Superior and the Inn's staff will do everything to ensure that the Sweet 16 party is a success. The Park Inn (parkinn.com/hotel-saultsaintemariemi/meeting-rooms) of Sault Ste. Marie, along the Michigan-Ontario border crossing, offers its meeting room to families who want to celebrate a simple Sweet 16 in the scenic Michigan north.
Photo Credits
Comstock/Comstock/Getty Images