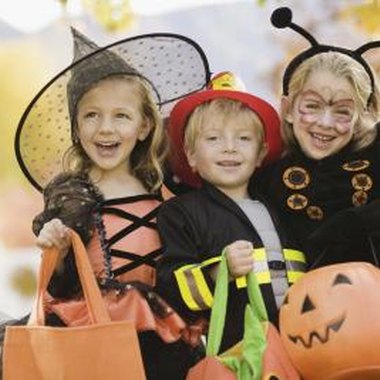 The Halloween Parade in Douglassville, Pennsylvania, is a festive community celebration of this holiday. In late October the Daniel Boone Optimist Club hosts the parade as part of their service to Douglassville families. Local organizations like the Daniel Boone High School Marching Band and the fire department create floats that are judged for prizes, and little ghouls and goblins of all ages can enter the parade's costume contest.
Visitors
The Douglassville Halloween parade is held in the evening at Amity Gardens, which is bordered by Benjamin Franklin Highway, Old Swede Road and Old Airport Road. Parking is available at the baseball field located behind the recreational facilities on Lake Drive. Be alert to any street closures or areas where parking is prohibited to visitors. Some lots may be reserved only for parade vehicles.
Floats
Anyone wishing to enter a float in the parade is required to register ahead of time to be eligible for judging. Registration typically starts an hour before the parade. Floats must be created using appropriate vehicles and are not allowed to be made with go-carts. Participants also cannot use in-line skates or bicycles with their float. Themes of a political nature are not permitted in the parade. Many local organizations participate annually in the parade, including the MOMS Club of Douglassville-East. The club performs their own year-round service projects and family activities for the community.
Contests
The parade float contest encompasses groups of all sizes, with prizes awarded to small groups of up to five people, large groups with six or more and a separate category for motorized floats. The costume contest is divided by age for children 4 and under, children 5 to 10 years old and children over 11 years old. Winners can count on not only the pride of being recognized by the community, but also cash prizes for being the best in their category.
Daniel Boone Optimist Club
The Daniel Boone Optimist Club was started in 1968 as a way to serve the Douglassville community and their children. It is a nonprofit organization welcoming anyone 21 or older who is interested in mentoring and helping youth. The club is part of Optimist International, whose mission is to work with youth to help them bring out the best in themselves. Optimist chapters hold community events, teach children public speaking skills, have child safety programs and include events like youth golf tournaments.
Photo Credits
Jupiterimages/Brand X Pictures/Getty Images