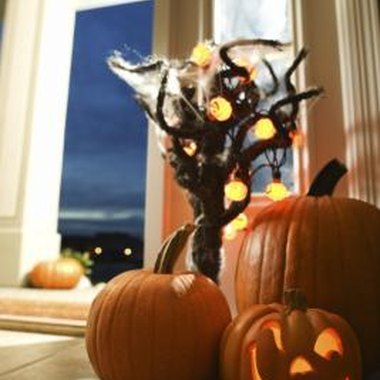 For grandparents of kids with busy schedules and extracurricular activities, it can be hard to find time to spend together. This is especially true for families who do not live close to one another. Christmas and Thanksgiving are traditional times to gather, but these holidays can be busy and feel rushed. However, smaller holidays can also warrant celebrations and family-based activities. Halloween is a great opportunity for grandmothers to spend quality time with their grandchildren. Whether the children are toddlers or teenagers, they will enjoy fun, Halloween-oriented activities with their grandma.
Trick-or-Treating
If your grandchildren are young enough to partake in this traditional Halloween activity, offer to chaperon. Young children should never be allowed to traverse the streets alone, especially on Halloween. However, your presence can be more than a measure of safety. Consider collaborating with your grandchildren on Halloween costumes. For example, wear coordinating costumes to create a stir as you go from house to house.
Jack-o-Lanterns
Carving pumpkins is another classic Halloween activity you can do with your grandchildren. But the fun does not end when the carving is complete. Have your grandchildren save the "guts" of the pumpkins, and then teach them to toast pumpkin seeds. Boil the seeds in salted water for 10 minutes, place them in a roasting pan and roast in the oven at 400 degrees Fahrenheit for 10 to 20 minutes, until the seeds begin to brown.
Handing Out Candy
If your grandchildren are too old to go trick-or-treating, consider handing out candy to trick-or-treaters together. You could spend the weeks leading up to Halloween picking out decorations for the house and perhaps choosing costumes for yourselves.
Halloween Film Fest
If your grandchildren are teenagers or older and are not interested in traditional Halloween activities, consider throwing a Halloween film fest. Rent or download scary videos that you are all up to watching. Then, purchase or make snacks to munch on during the movies. To really get into the spirit, create a Halloween buffet complete with items such as candy corn, black licorice, ghost-shaped meringue cookies, toasted pumpkin seeds and pumpkin pie.
Photo Credits
Thinkstock/Comstock/Getty Images