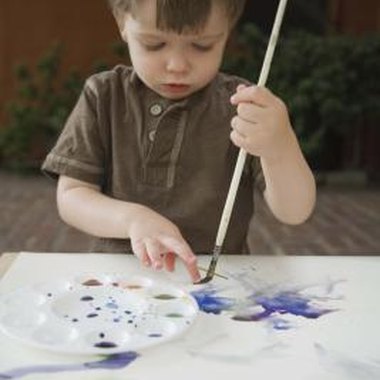 Help your toddler make an appealing door decoration to greet your trick-or-treaters this Halloween. Seeing his handmade Halloween creation hung in a prominent place will make a toddler feel proud of his masterpiece, and pulling out the crafts he made as a toddler will gives parents a nostalgic reminder of one of his first Halloweens for years to come. Hang decorations only on interior doors, as exposing paper crafts to the elements will damage them before trick-or-treaters come knocking.
Pictures
The messy fun of painting with their hands appeals to nearly all toddlers, and asking them to create Halloween pictures can help you teach toddlers about Halloween safety. Ask your child to create pictures of Halloween scenes. Encourage her to paint a picture of herself in her Halloween costume or her house at Halloween. Although few toddlers will be able to paint a recognizable image, while they're working you can talk to them about safe trick-or-treating.
Creatures
Monsters and ghosts are scary to toddlers, but they'll be everywhere on Halloween night. Helping toddlers create their own creatures to hang on the door may make these creatures seem less frightening. Most toddlers won't be able to cut shapes out on their own, so cut ghost shapes out of white paper and help your toddler crumple up tissues and glue them to the ghosts. Help him glue crumpled pieces of black tissue paper onto bat shapes. Cut witch bodies, faces and hats out of colored construction paper and help him glue them together and decorate them.
Wreaths
Making wreaths doesn't require a trip to the craft store. Cut the centers of paper plates, leaving 2-inch-thick rings of paper as the wreath bases. To make orange and black wreaths, give your toddler sheets of orange and black tissue paper to rip into small pieces and glue to the wreath frame. Ripping up small pieces of paper helps toddlers build their fine motor skills. To make wreaths featuring your toddler's artwork, give her coloring sheets featuring small Halloween pictures for her to color. Help her cut out the pictures and glue them onto wreaths.
Pumpkins
Jack-o'-lanterns are common Halloween decorations, but while carving their own pumpkins is too dangerous and challenging for toddlers, every toddler can personalize a jack-o'-lantern made from a paper plate. Give your child a bowl of orange finger paint and a paper plate to paint. When the paint dries, cut up and give him a variety of green and black paper shapes such as circles, triangles and rectangles. Help your toddler create a face using the shapes and glue them in place. Toddlers can also use crayons to color their plates orange and add faces.
Photo Credits
Jupiterimages/Comstock/Getty Images