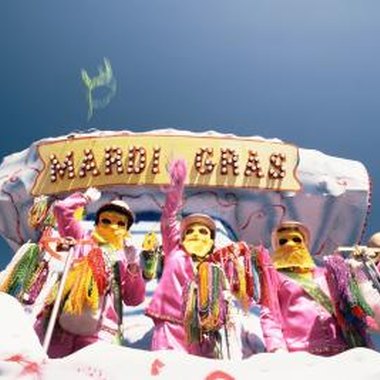 Mention Mardi Gras celebrations and for most people New Orleans comes to mind. Not far away, however, is Gulfport, Mississippi which offers parades and parties that are more family friendly than wild. Positioned halfway between New Orleans and Mobile, Gulfport offers numerous Mardi Gras parades and other activities.
Krewe of Gemini Parades 2011
The Gulfport, Mississippi, 42nd Annual Krewe of Gemini Mardi Gras Parade was held on March 5, 2011 at 2 p.m. The parade route started at 19th Street and proceeded to Highway 49 past Hancock Bank's main branch and on through downtown Gulfport. On March 8, the Krewe of Gemini held a night parade for the first time. The parade began at 6 p.m. and processed through downtown Gulfport.
Orange Grove Parade
The Orange Grove Carnival Association held its first Mardi Gras parade on Feb. 19 at 2 p.m. The parade started at Harrison Central 9th Grade in Gulfport. As of this writing, Orange Grove will hold their Mardi Gras parade on Feb. 4, 2012 at 2 p.m. The parade will begin again at Harrison Central 9th Grade, go north to Dedeaux Road, then west to Highway 49 to Ashley Drive. The Orange Grove Krewe of Kids will follow the parade and toss goodies to spectators.
Nearby Parades
Other towns along the Gulf Coast of Mississippi near Gulfport also hold Mardi Gras parades hosted by different organizations. In 2011 parades were held in Ocean Springs, Pascagoula Beach, Long Beach, Biloxi, Pine Island, Waveland, Pass Christian, North Bay, Bay St. Louis and others. Some towns have several parades hosted by different groups.
When is Mardi Gras?
The date for Mardi Gras changes every year, but it is always the day before Ash Wednesday. Ash Wednesday is always 40 days before Easter. The date of Easter falls any Sunday between March 23 and April 25, but it is the first Sunday after the full moon after a Spring Equinox. Mardi Gras was March 8 in 2011; it will be Feb. 12 in 2012; and Mardi Gras will fall on Feb. 21 in 2013.
Where to Stay
If you're planning to visit the Mississippi Gulf Coast during Mardi Gras season it's important to make reservations well in advance to have the most choices and the best prices. The Gulfport/Biloxi area has hotels, motels, bed-and-breakfasts, condominiums, casino resorts, RV parks, campgrounds and rental homes from which to choose. The Harrison County Tourism Bureau (gulfcoast.com) lists a wide variety of these options, many with pictures, along with ideas of things to do in addition to watching all the parades.
Resources
Photo Credits
Jupiterimages/Photos.com/Getty Images