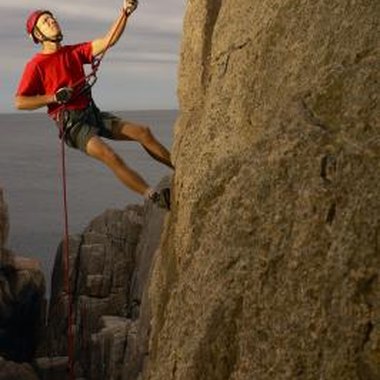 Central Texas is a vast expanse of land with a variegated landscape composed of numerous landforms in many shapes and sizes. Rock climbers find it to be a playground. There are both well-known and off-the-beaten-path routes that attract both novices and advanced climbers. A number of gyms and rock-climbing communities help round out an area that climbers find fun, challenging and unique.
Climbing Areas
Of all the rock forms in central Texas, there are some that stand out enough to be protected land and visited by climbing enthusiasts. Take Enchanted Rock (tpwd.state.tx.us), for instance. It is one of the largest batholiths in the United States, covering 640 acres and rising 425 above surface level. It is a huge, pink exfoliation dome with a number of climbing paths, bouldering areas and a large surrounding park area. Another popular climbing destination is the Barton Creek Greenbelt (ci.austin.tx.us) just outside of Austin. This area has many climbing areas, including the urban assault, a big white buttress with a steep face, and Gus Fruh, which offers access to climbing routes for beginners.
Climbing Schools and Gyms
Central Texas is home to a number of organizations and establishments that offer rock-climbing courses, as well. Of these, Mountain Madness Climbing School (mtmadness.com) has made a name for itself by readying more than 15,000 individuals for climbing. It offers beginner, lead climbing, sport climbing, crack climbing and advanced climbing courses at Enchanted Rock. Other rock climbing gyms that offer courses and places to climb indoors are Austin Rock Gym (austinrockgym.com), Boulders Sport Climbing Center (climbboulders.com) and the Texas Rock Gym (texasrockgym.com), with locations in League City, Houston and The Woodlands, Texas.
Central Texas Mountaineers
The Central Texas Mountaineers (ctmrocks.com) is an organization of note for climbers both living and visiting central Texas. It is based out of Austin and acts as an advocacy group for climbing access to public and private lands. It also provides regular maintenance of climbing routes to improve safety. The organization can help set up lone traveling climbers with climbing buddies in the area. There are also numerous monthly events set up by the organization that include group climbs and trail cleanups throughout the Austin area.
Overnight Trips
Overnight climbing trips in central Texas are plentiful because of the protected parks and natural areas where climbing routes are located. Climbs need to be planned independently but can include organized trips from local climbing organizations. The Austin Rock Gym, for instance, puts together day trips throughout the year to areas such as Reimers, Enchanted Rock and Greenbelt. When joining one of these trips, plan to camp out that same night and ask the guides what areas can be explored independently the next day. McKinney Falls State Park (tpwd.state.tx.us) is another place that offers both climbing and camping in the same vicinity.
Photo Credits
Hemera Technologies/AbleStock.com/Getty Images