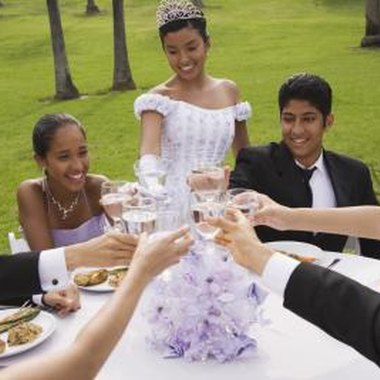 Many Latina girls are counting down the days with excitement to their fifteenth birthday. On this day, the birthday girl is honored with religious and symbolic ceremonies during a quinceanera as this day signifies that she is leaving her childhood behind. If you are planning a quinceanera, the reception is one of the biggest aspects of the event.
Decoration of Reception Area
As you plan the reception for your quinceanera, visualize how you want your reception to look. Use your color scheme throughout your quinceanera reception venue to create a sense of unity. Use large balloon bouquets, floral centerpieces and candles that match your quinceanera colors. Or you may want your reception to follow a theme. Some possible themes include casino nights, fairy princess, fiesta or under the sea.
Presenting the Quinceanera Court
Once guests have taken their seats, the emcee or DJ announces the presentation of the quinceanera court. The quinceanera court is similar to the bridal party. The guest of honor traditionally chooses seven girls (damas) and seven guys (chamberlains). Each member of the court accompanied by their chamberlain is presented. Usually these couples walk under a balloon arch or floral arch that matches the quinceanera colors as they come into the room. Lastly, the guest of honor makes her appearance accompanied by her escort or by her parents. The way that the teen wants the quinceanera court to be presented is up to her. She may want the court to perform a choreographed waltz once they enter the room or simply dance to popular upbeat music. The presentation of the quinceanera court is introduced while background music is playing.
Traditional Activities
During the reception, there are a few ceremonies that are done in honor of the young woman. In the "Crowning of the Quinceanera," the birthday girl is given a beautiful tiara by her mother. The decorative headpiece that she was previously wearing is replaced by this tiara. She is also handed a scepter, which represents acceptance of the new responsibilities of a woman. Another ceremony is the "Changing of the Shoes" in which the young woman is given a pair of high heels by her father. The ballet shoes or flats that she was previously wearing are replaced with these heels.
Dancing
After the ceremonies have concluded, celebrate the young woman's birthday on the dance floor. Some quinceaneras have a DJ keeping the music going while others have a live band providing music. Music choices are up to the young woman and her preferences. A highlight of the quinceanera is a sentimental father-daughter waltz to songs such as "De Nina a Mujer," "Tiempo de Vals" or "Butterfly Kisses." Most quinceanera dances consist of a combination of popular English songs and Tejano Spanish songs. The key is to keep your guests dancing, so have the guest of honor and her quinceanera court lead guests to the dance floor.
Photo Credits
Jupiterimages/Brand X Pictures/Getty Images