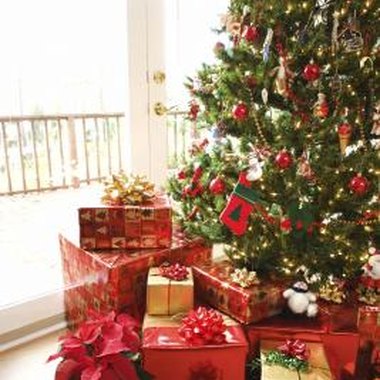 Help your child throw a "Polar Express" slumber party to celebrate the Holiday season. This favorite childhood story is full of magic and shows what can happen if we choose to believe. Create a childhood memory that will never be forgotten using the elements that made the "Polar Express" a Christmas classic.
Invitations
Send all the children you would like to attend the party a ticket to be a passenger on the "Polar Express." Use gold paper so they look like the tickets in the movie. Include the date, time and location of the party and remind the children to bring their tickets with them. Ask each child to arrive in their pajamas -- the Polar Express travels on Christmas Eve.
Costumes and Decorations
Wear a conductor's hat to greet your guests at the door and be sure to punch their tickets with a special message and welcome them to the Polar Express. Hang signs that mark the destinations associated with your trip -- North Pole, Santa's Workshop and Reindeer Crossing are examples of stops you can make along the way. Table top trains and snowflakes hung from the ceiling will add to the festive mood.
Activities
Use a roll of butcher paper to draw a train and let your guests draw their faces in the windows. Have the movie playing in the background while you oversee the activities. Provide stockings, glitter glue and other decorative elements so that each child can decorate their own stocking. After the children have gone to bed fill the stocking with goodies such as train whistles, individual packets of hot chocolate and a Christmas themed coloring book.
Treats and Sweet Dreams
Have plenty of Christmas cookies on hand and set up a hot chocolate bar where each child can help create their own cup. Provide marshmellows and whipped cream to dollop on the hot chocolate. You can also use crushed candy canes as a garnish. Create an area for a sleeping car and allow the children to set up their bedding. End the evening by watching the "Polar Express" movie. Be sure to send every child home with their own bell to adorn their family tree and don't forget to punch their tickets as they depart.
References
Photo Credits
Thinkstock/Comstock/Getty Images