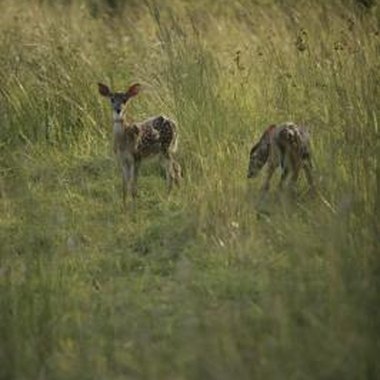 If hunting's your game, Michigan's Upper Peninsula is the place for you. Surrounded by water and attached to lower Michigan by the 5-mile-long Mackinaw Bridge, the U.P. encompasses 16,452 square miles, much of which remains uninhabited. In fact, the U.P. has one-third of Michigan's land mass and only 3 percent of the state's population, making it a premier destination for hunters to ply the north woods in search of white-tailed deer, wild turkey, black bear and more. In recent months there have even been talks of a limited moose hunt in the northland, where wildlife of all description thrive.
Deer
White-tailed deer abound in upper Michigan, although numbers have diminished in recent years with the spread of the grey wolf, which migrated to the U.P. from established populations in Wisconsin. In 2008 antler-point restrictions were adopted in the U.P. that limited the regular tag buck harvest to an animal that sported a minimum of three points on one side. A hunter can only use her restricted tag on a buck with four points on one side. You can take deer over bait in the U.P., in seasons restricted to firearm, archery and muzzleloaders. There are also a special seasons for youth hunters and disabled veterans. You can find bait in the form of apples, carrots and beets at local feed stores and at most convenience stores and gas stations throughout upper Michigan.
Turkey
To hunt turkey in spring or fall, you have to apply in advance for a limited number of available licenses. The application fee is $4. The U.P. is divided into different management areas. Apply for a license in the area where you want to go after that big gobbler. Hunters can use a bow and arrow, a crossbow, a firearm with a fixed shotgun shell or a muzzle-loading shotgun. You cannot bait or use mechanical, electronic or live decoys to bag your turkey. Sit still to have the best chance at bagging a turkey. Turkeys react to movement 10 times faster than a human, according to the Michigan Department of Natural Resources; therefore the successful hunter lets the turkey come to him.
Bear
You can hunt bear over dogs in the U.P. The pack size is limited to six dogs. All dogs must have current immunizations and proper identification attached to their collars. Report any wolf/dog conflicts to the DNR immediately. You can take bear with firearms, crossbows or with a bow and arrow. A non-resident using a pistol must have in their possession a concealed pistol license or a license to carry or transport issued by their home state. U.P. hunters may place blinds in early August, with the date dependent on the regulations applicable to the current season's hunting dates. During baiting season, hunters must use only meat and meat products, including dog food; fish and fish products, including cat food; and bakery products, including jams, jellies, pie filling and any other commercially processed bakery-type materials. Other products may be used beginning on Oct. 1; check with the local office of the DNR for current baiting content regulations. You must apply for a bear-hunting license, indicating the upper Michigan management area in which you plan to hunt. The fee at the time of publication is $4.
Considerations
Hunting license regulations, baiting restrictions and license costs change on a yearly basis. Before embarking on a hunting trip, check with the DNR for the most current information. Generally, hunting begins one-half hour before sunrise and extends to one-half hour after sunset. Crossbows are now legal in any season in which a firearm may be used. In 2010, the DNR estimates there were 30,176 hunters participating in the deer archery season in the U.P.; during regular firearm season, 91,870 hunters were in the woods; and hunters using muzzleloaders totaled 20,829.
Photo Credits
Comstock/Comstock/Getty Images