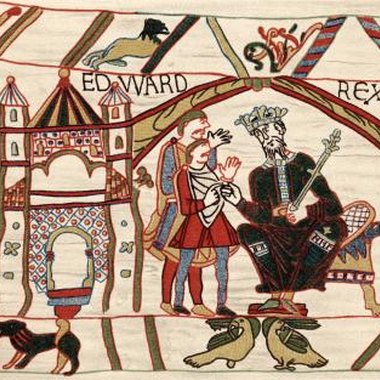 Crewel embroidery has a long, enduring history depicting natural and historical scenes "painted" on fabric with wool. As a "free" style of embroidery, crewel allows the stitcher to create a design from a pattern. It differs from counted-thread needlework such as counted cross stitch or other counted-thread embroidery forms.
History
Crewel embroidery dates back to the 11th century, with a more-than-900-year-old tapestry depicting the 1026 battle of Hastings -- the Norman victory in England. This tapestry was created using stem, satin, long and short stitches to create the tableaux of the battle, which depicts animals and soldiers both dead and alive. Crewel embroidery reached its peak popularity in the 16th and 17th centuries, according to Nordic Needle. In the 18th century, European crafters no longer pursued crewel embroidery the way they had in the past.
Definition
The name "crewel" comes from wool, which is used to stitch the pictures onto the fabric. Crewel is said to be the Welsh word for wool, while others say it comes from older words -- "krua" and "clew," meaning "ball of yarn." This appears to be supported by the use of wool for the earliest tapestries that have been found, one of which dates to the first century B.C., according to Nordic Needle. Other forms of surface embroidery, such as silk, free and wool embroidery, are forms of crewel embroidery. Crewel needlework includes Colonial needlework, as well as elements of the Arts and Crafts movement, which developed as a reaction to the Industrial Revolution of the 19th century.
Comparison to Other Needle Arts
Berlin wool work, which originated in Berlin, Germany, uses simple stitching patterns and basic stitches. Crewel embroidery was influenced in pattern creation by the Berlin wool work movement because pattern designers designed their patterns using colored squares that corresponded to the squares on the canvas used for stitching. Other forms of needlework to which crewel work is compared include Jacobean embroidery and Quaker tapestry, states the Textileindepth website. Stitches used in crewel embroidery include blanket stitch, back stitch, satin stitches, outlining stitches -- split, stem and chain stitches -- seed stitches, couched stitches, French, bullion, coral and the knotted pearl stitch.
Supplies Used
The crewel stitcher should stock up on several different items before getting started. A medium-weight fabric that allows the crewel needle and wool to pass through easily and an embroidery hoop or frame make the stitching process easier. Crewel needles should be sharp with an eye large enough to thread the wool. If the stitcher prefers, she can use a chenille needle, which is also sharp, but shorter than the crewel needle. A yarn threader makes it easier to thread the yarn through the eye of the needle. The thimble helps the stitcher push the needle through the fabric. Include a sharp pair of scissors, a magnifier and a good lighting source for ease and convenience in stitching.
Photo Credits
Photos.com/Photos.com/Getty Images