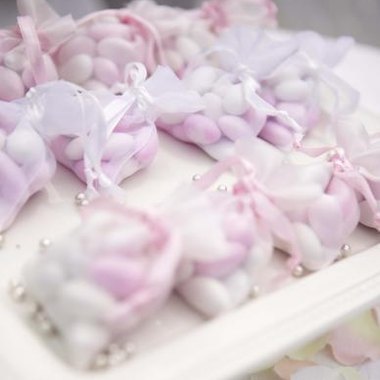 Whether you are hosting a birthday party, baby shower, bridal shower or wedding, it is thoughtful to send your guests home with a thank you gift or party favor. Spoil your friends, family or co-workers with practical favors or gifts meant purely for entertainment. Select favors that suit the occasion.
Edibles
Appeal to the taste buds of your party guests by handing out edible favors to each person. For a sweet treat, select wrapper chocolates, chocolate-coated candies, jellybeans, cupcakes, cookies, caramels, lollipops or cookies. If you enjoy working in the kitchen, pass out jars of homemade salsa, jams or applesauce. You can also send your guests off with fresh breath by giving out decorative tins full of breath mints or gum. Any edible gift you select can be placed on a decorative plate or tied in a decorative bag. If the treat comes in a wrapper or label, you can have a special message printed on it. For example, if the treat is a wedding favor, print the married couple's names and wedding date.
Drinking Accessories
Give your adult friends who are at least 21-years-old drinking accessory items as party gifts. Pick from drinking glasses such as beer mugs, wine glasses, toasting flutes or shot glasses. You can also give out drink holders like coasters, wine charms, koozies, coolers or wine racks. Other options include beer or wine bottle openers, ice buckets or wine stoppers. Personalize these drinking-related gifts with the name of each guest, an athletic team's name or an appropriate image. These drinking accessories can be given out to guests as each person arrives at your party so that it can be used throughout the party and then taken home.
Kitchen Tools
Keep things running smoothly in your friends' kitchens by giving essential kitchen tools as party favors. Choose from measuring spoons, wire whisks, spatulas, pizza cutters, timers, sugar tongs, cheese boards, cheese spreaders, coffee scoops, cheese graters, teapots or mixing bowls. These gifts would pair well with a baking party or recipe exchange party. Another fun option is to give each guest an apron, pot holder or chef's hat that can be worn during the party and taken home. These kitchen gifts can be set on each guests' table setting. The smaller items could be placed in a large gift basket where guests can pick on their way out.
Paper Products
Give creative party favors to your guests that are made out of paper. Present personalized coupons to each guest. The coupons can be good for a free babysitter or home-cooked meal. Another option is to give each guest a magazine subscription to a magazine that suits the interests of each person. And you can't go wrong with a gift certificate to a movie theater, movie rental store, local restaurant, grocery store or favorite book store. If your friends enjoy reading, give everyone the same book as a parting gift and suggest that you start up a book club. Place one of these paper gifts at each of your guest's assigned seat at your party.
Photo Credits
Jupiterimages/Comstock/Getty Images