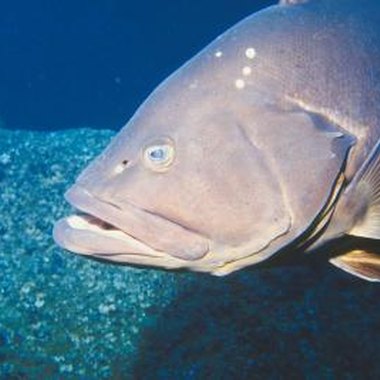 Grouper is one of the most popular fish to catch and eat in the the Tampa Bay region of Florida. A white, light-tasting fish, many people love to catch grouper because it's easy to cook and easy to season. However, grouper is a bottom-dwelling fish, so you'll need to know where to go and how to catch these delicious fish if you plan on making it your chosen meal.
Where to Catch Grouper in Tampa
Tampa is located in the Gulf of Mexico -- which is considered the grouper capital of the world. Therefore, these fish abound in many places. You can catch them from fishing piers or boats. However, local fisherman will tell you the best place is to find a grouper is in a fishing hole with a rocky bottom or one that has a ledge or artificial cover for grouper to hide. As close as 20 miles out from shore with a fish finder, you can find yourself in heaven if you locate a honey spot of hiding grouper fish. Check the local fishing reports for clues or fisherman.
What Type of Rod and Reel to Use
Since grouper fish are a bottom-dwelling fish, you will need a sturdy rod and reel to muscle your catch into the boat for dinner. Once you hook a grouper, it will generally put up a good fight and try to run back to a rocky den or underwater ledge for safety. Therefore, your pole will need to be able to bend but not break. A six- to seven-foot heavy action rod with 40 to 50 lb. test monafilament line on a heavy-duty spinning reel is needed to catch a grouper.
What Type of Bait to Use
Although sometimes a personal preference, most Tampa Bay locals fish for grouper with live or frozen bait instead of using a lure. Frozen white baits are plentiful at bait stands throughout the area. Squid and sardines work nicely when trying to attract a grouper to your line. If you cut your bait, cut the pieces on 45-degree angles to get the longest pieces available and get the most smell into the water.
How to Cook Your Catch
Since grouper has such a delicate and fresh taste to it, it is easy to prepare this fish in many different ways. You can bread and deep fry your grouper -- which makes an excellent grouper sandwich. Or purchase blackening seasonings, generously coat both sides of your fillets and cook the fish on high heat in a pan of butter. If you like lighter fare, simply place your fish in a broiling pan and sprinkle lemon juice and fresh cracked pepper over the top. You'll be hard pressed to run out of ways to cook your catch.
Photo Credits
Jupiterimages/Photos.com/Getty Images