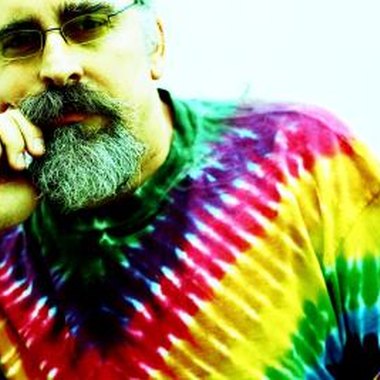 The 1960s was a decade of peace, love, flower power and hippies. The mood was light and the baby boomer generation began to dominate clothing styles, decor and music with the free-spirited attitude of the time. You can set the mood for a '60s theme party in just a few easy steps.
Setting the Mood
Peace symbols were very popular and can be made with plain paper and colorful paint. Once dry, hang them throughout the home. Flowers were also a symbol of the 1960s. You can often find large flower cling-ons at local craft shops. Hanging beads are another popular '60s statement. Try hanging beads in a doorway between two rooms that guests will travel through often. You can top off the ambiance with a few blacklights and burning incense.
Clothing
Popular clothing from the 1960s was geared towards the hippie look -- long hair, hats, headbands, bell bottom jeans and tie-dye shirts. Ask guests to dress in costume so that everyone gets into the feel of the '60s vibe. You can even purchase plain white tee shirts and guests can tie dye their own to take home as a keepsake of the night. You could also purchase some single stemmed, silk flowers at a discount store and pass one out to each female guest to wear in her hair.
Food
Grill outs were popular in the '60s, as families gathered in backyards and area parks. To give guests a feeling of yesteryear, serve hot dogs and hamburgers on the grill with a side of potato chips and dip. For a drink from the past, Koolaid will bring back fond memories. For dessert, you can serve a popular dish from the 1960s -- pineapple upside-downcake, or if the weather is cooling, consider building a small fire in the backyard or in a pit and roasting marshmallows.
Music
A groovy '60s-themed party would not be complete without music from the era. You can make several mix CDs with popular artists of the time including the Beatles, Elvis, The Beach Boys, The Grateful Dead, The Supremes and The Byrds. For a variety, try having several audio systems or boom boxes throughout the home and outdoors so that guests can hear their favorites no matter where they are.
Photo Credits
Photos.com/Photos.com/Getty Images