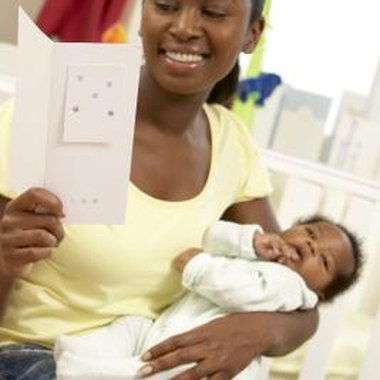 Making your own congratulatory cards to attach to a baby shower gift for an expectant mother is often a welcome and heartfelt addition. Finding just the right wording to insert into your homemade card can be challenging and may be centered on the baby's gender or have religious tones. Choose the wording that is most appropriate when taking into consideration the mother's and your personal preferences.
Gender-Specific Wording
If the gender of the baby is known, use that information in the wording of the card to personalize it for the mother and make her feel closer to her new arrival. "We know you're tickled pink to welcome your new baby girl," or, "There's a baby on the way, a special bundle of joy. Welcome baby ______, a precious little boy" are two ideas for gender-specific card wording. Use a humorous idea such as, "Nine month forecast, a baby girl/boy is predicted. But first, there will be a shower."
Unknown Gender
Keep your wording general when the sex of the infant is unknown. Use wording such as, "May you be blessed with a small package of joy," and, "Best wishes for you and your baby." Even wording such as, "Congratulations on your new arrival," or, " A new addition to the line-up ... Congratulations." Another option when the baby's gender is unknown is to use the decorative theme of the card to shape the wording. For example, if using stars as the main decoration, write, "Twinkle, Twinkle, Little Star" in the card, along with a personal note.
Religious Sayings
"Our hearts rejoice with you," "God has sent you the special gift of life" or, "We are blessed to welcome your little one into the world during this celebration" are some common wording options with religious tones. Use caution before inserting religious statements or even wording with religious undertones when the expectant, and often emotional, mother is not religious.
Wording for Multiples
When having twins or multiples, integrate this fact into the wording to make the card more customized to the expectant mother's situation. In addition, when the gender of the babies are known, attempt to insert this into the wording. "Two by Two, here they come. ____ and ____ are having twins. Double the fun!" is one wording option. Another idea is, "Have you heard what's new? ______ and _____ are expecting two!"
Photo Credits
BananaStock/BananaStock/Getty Images