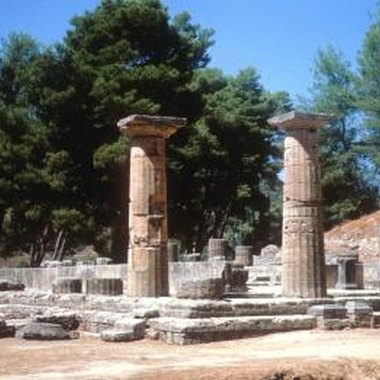 Every April, Boston feels a little more like Athens as the city's Greek community comes out in full force to celebrate its homeland's independence. The annual Greek Independence Day parade draws huge crowds to the area around the Boston common, with Greek immigrants, those with Greek ancestors and those just looking to celebrate the country's heritage all coming together for a day of fun and excitement.
When and Where
While the date of the parade changes each year, it is always scheduled for a weekend near March 25, the day Greeks celebrate their country's independence from the Ottoman empire. The parade itself typically occurs on Sunday, starting in the early afternoon. The parade steps off each year on Boylston Street near Massachusetts Avenue. The parade winds its way through a .7-mile route down Boylston toward the Boston Common, concluding at Charles Street.
Participants
While the lineup for the annual parade changes each year, there are some constants. Greek tradition is on display, with floats representing ethnic groups from around Massachusetts and New England. Other attractions include drill teams from the Boston Police Department, marching bands from area schools and colleges, and state and local elected officials. Greek Orthodox churches from the area are always well-represented in the parade, as are officials from the Federation of Hellenic-American Societies of New England (fhasne.com), the group that sponsors the event.
Post-Parade Activities
When the parade is over, the fun is just beginning. Organizers set up tents and stages on the Boston Common and revelers are invited to enjoy live music, dancing and other attractions. Greek food is available, as well as tents showcasing Greek culture and history. The post-parade celebration is seen as a way to keep the party going and make a full-day event out of celebrating Greek culture.
Parade Gala
The Independence Day celebration begins even before the parade steps off. Each year, The Federation of Hellenic-American Societies of New England holds a parade gala the night before the big day. The gala night features food, drinks, music and entertainment and is seen as the official kick-off of the weekend. Unlike the parade, tickets are required for the gala and can be purchased by calling 617-980-4263. Money raised at the gala goes toward parade expenses.
Photo Credits
Photos.com/Photos.com/Getty Images