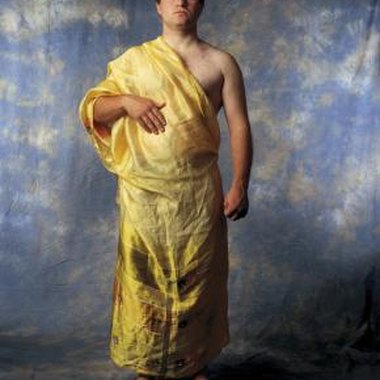 Throwing a Greek-themed party is a fun alternative to regular celebrations for kids or adults. Greek-themed parties can be especially fun for birthdays or Olympic Games celebrations. Setting up Greek-themed parties is easy with just a few key preparations such as costumes, food choices and decorations.
Invitations
Send out invitations that set the mood for a Greek mythology theme. Write these invitations on parchment paper for a more ancient Greek look. Age the parchment paper by burning the edges or soaking it in grape juice. Use a Greek-esque font to print out the party details. Roll up the parchment paper like a scroll and tie them with a ribbon.
Food
Serve Greek-inspired food such as Caesar salads, grapes, figs or ambrosia. Offer guests wine and water in Greek inspired jugs. Buy some sparkling grape juice for those who don't drink alcohol.
Costumes
Have your guests dress up like a Greek god or goddess. Suggest togas and props to signify a specific Greek deity. Host a costume award ceremony at the party for most realistic, funniest or most creative.
Decorations
Decorate your home by covering the couch chairs and furniture with white, gold, purple and burgundy fabric. Buy some artificial ivy and hang it along door frames and surfaces. Print out pictures of individuals from Greek mythology and hang them up around the house. Attach information about each individual for your guests to read. Use candles or white Christmas lights as your primary lighting.
Games and Activities
Play Greek mythology trivia. Divide guests into teams and ask questions about gods, goddesses and major events in Greek mythology. Provide an award such as a bottle of wine or special crowns to the winning group. Play Olympic games such as tug-of-war, sprints, shot put, etc. Set up a place for couples and families to take official pictures. Paint a Greek temple on a sheet and hang it up in the entry way for a backdrop.
Photo Credits
Stockbyte/Stockbyte/Getty Images