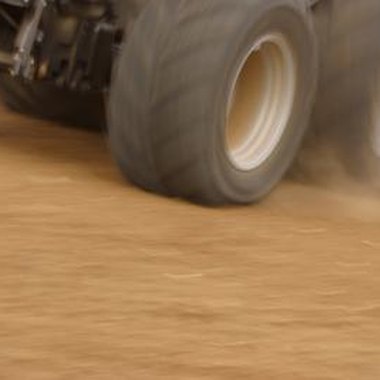 In 1981, Dennis Anderson pieced together the first incarnation of Grave Digger, the world's best known monster truck. The crushing power, deafening roar, and high-speed racing and freestyle skills of Grave Digger make it a popular choice for extreme birthday parties. With a monster truck costing upwards of $250,000, creating an awe-inspiring, dirt-spinning, car-crushing Grave Digger monster truck birthday is a great alternative to getting your adrenalin junkie driver the real thing.
Invitations
Invitations are the best way to get your guests into gear for your Grave Digger monster truck birthday party. Find an image of Grave Digger where you can see the driver in the front seat and put your guests in the middle of the action by gluing a picture of each guest's head onto the driver for a personalized invitation. For a finish-line inspired invite, deliver a black and white checkered flag, with the party details printed on it, to each guest. For a monster jam themed party, featuring Grave Digger, design invitations that look like monster truck rally tickets, including one for each attendee.
Decor
Grave Digger is known for his menacing appearance with a ghoulish skull, purple mist and bright green flames, so be sure to use these images and colors in your adrenaline-pumped party decorating. Use purple, black and green streamers and balloons to transform your party space. Use a black and white checkered table cloth on your table and include a dirt-filled trough with die-cast cars and monster trucks running the length of your table as a centerpiece. If you are doing the party in your back yard, set up a monster jam course including piles of tires, dirt, toy trucks, orange pylons and flags with a start and finish line. You can also include bleacher seating so that parents will have a space to sit and watch the kids. To add to the ambiance, include a popcorn machine and a hot dog stand so that guests can enjoy arena-themed food while they play.
Cake
No birthday party is complete without a cake, and when it comes to monster trucks, the bigger the better! Start with a typical sheet cake and decorate the top with icing hills and a dirt track made with chocolate cookie-crumb dirt. Use die-cast monster trucks, featuring Grave Digger, to decorate the monster jam track. If you are really cake-talented, or know someone who is, use sheet cakes to mold a cake that looks like Grave Digger, and decorate it with black, purple and green icing so it looks like the real thing. For individual cakes, bake cupcakes and decorate the tops to look like big round tires using black icing.
Activities
Make sure to plan lots of high-energy games to entertain your adrenalin junkie guests. Racing through a monster truck track is a great way to entertain Grave Digger fans. Have a start line where the guests line up, wave the green flag to start the race and have the guests race through an obstacle course. Don't forget to wave a checkered flag for the winner. You can also have a variation of this activity where your guests take turns racing remote control monster trucks through the track. Have a pit crew relay where your guests have to race while rolling large tires to a finish line. For a thrilling take-home, enlarge a huge picture of Grave Digger, mount it on a board, and cut a hole in it where the driver's head should be. Your guests can stick their head through the hole and have their photo taken while "driving" Grave Digger at your monster truck rally.
Resources
Photo Credits
Hemera Technologies/AbleStock.com/Getty Images