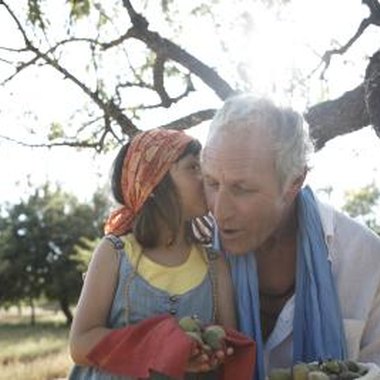 Grandparents are an influential part of a child's life. Their participation can range from simply attending special celebrations to at times being a grandchild's primary caregiver. Acknowledging their role is important and can be accomplished in many ways. On the next Grandparent's Day consider making a whimsical craft that features hugs and kisses.
Love Jar
Fill a jar with kisses and wrap it in hugs. For this craft, take an empty jar that has a lid, like a canning jar, and fill it with candies, such as ones shaped like kisses or lips. To decorate the outside, trace your hands unto paper and cut out the shapes. Glue these hands around the jar to represent hugs. Take some red ribbon with hearts and attach it around the jar lid. This treat will bring smiles to your grandparents' faces.
XOXO Banner
The letters "X" and "O" are known to signify "kiss" and "hug" respectively when written at the end of a note. Use these popular representations to make your grandparents a banner they can hang up at home. Cut out the letter shapes from any material you'd like, such as cardboard, construction paper or foam, and string them together with heart shapes on each end. Choose an age-appropriate activity for your kids to decorate the letters. Add handwritten notes to the letters, color them in or glue heart-shaped wrapping paper to the shapes.
Hugs & Kisses Basket
For a thoughtful gift, present your grandparents with a hugs and kisses basket. Purchase any kind of straw basket or container that has a handle. If your basket has a lid, attach a note to the top that says "Hugs & Kisses," otherwise you can pin the message to the side. You can also paint this directly on a metal container. Cut out heart shapes from construction paper and have the kids write what they love and appreciate about their grandparents on each one. They can jot down beloved qualities or memories. You can also have them write gift certificates on the hearts, such as "Good for one snuggle, anytime."
Tic Tac Toe
A tic tac toe craft that portrays hugs and kisses is sure to bring joy to your grandparents. Using an "X" and "O" to again represent "kiss" and "hug," make a keepsake tic tac toe box. Purchase a simple square box from a craft store and paint it white, pink or red, if you wish. Divide the top into a tic tac toe board, either by purchasing foam pieces and cutting them into square shapes and gluing the shapes in an alternate pattern to add depth, or simply drawing dividing lines. Cut "X"s and "O"s out of a sturdy material, like card stock or foam. Attach a small bit of fabric fastener to each letter and to the middle of each square so you can actually play a game of tic tac toe with grandma and grandpa. Fill the box with goodies like cookies or cupcakes.
Photo Credits
Maria Teijeiro/Lifesize/Getty Images