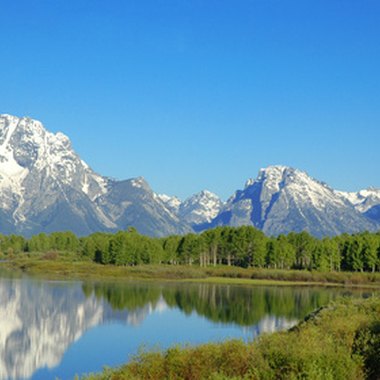 Whether it be to watch the wildlife in summer or run the ski slopes in winter, Teton area resorts offer their visitors comfortable lodgings at which to end a day of rugged outdoor sports. However, Grand Teton National Park spans almost 485 square miles, and with other area wilderness preserves in the area as well, visiting nature lovers and skiers need to choose their resort carefully.
Locations
While there are lodgings within the boundaries of Grand Teton National Park, resorts in the area are found outside the park. Given that Grand Teton adjoins Yellowstone National Park and Bridger-Teton National Forest, careful attention should be paid to a resort's location to take full advantage of western Wyoming's great outdoors. The town of Jackson enjoys a location between Grand Teton National Park to the north and west and Bridger-Teton National Forest to the east and south, but it is still only one of many possible resort destinations. Study a map carefully before choosing a resort.
Cowboy Village Resort
Located on the outskirts of Jackson, the Cowboy Village Resort offers its guests log cabin accommodations that are only 15 minutes' drive from both Grand Teton National Park and the Jackson Hole Ski Resort, while still only six blocks from the center of Jackson. The resort is also a stop on the START and Targhee Express bus lines, so guests do not even need to drive to reach local ski areas and Teton Village. The cabins are furnished in a contemporary fashion with plenty of wood furniture, paneling and log walls that create a rustic feel.
Flagg Ranch Resort
This New York Times Travel Pick is situated on the border between Grand Teton and Yellowstone national parks, making it a logical base for exploring both wilderness preserves. Set on the Snake River, the Flagg Ranch Resort's lodgings are found in its single, duplex and fourplex cabins. Although the cabins look quite rustic, with their log construction, tin roofs and wooded surroundings, on the inside they are decorated in comfortable, thoroughly mid-range fashion.
Grand Targhee Resort
Primarily a ski destination, Grand Targhee offers its guests what Frommer's described as a "more peaceful, less-crowded" alternative to Teton Village. Accommodations at the resort are found in three centrally located lodges: Targhee, Teewinot and Sioux Suites. The latter lodge offers spacious studio, loft and two-bedroom suites, and the guest rooms in all three buildings are appointed in a contemporary Western style. In an added plus for skiers, the lodge complex is located only a few minutes' walk from the resort's ski lifts.
Photo Credits
grand teton national park image by Brett Bouwer from Fotolia.com