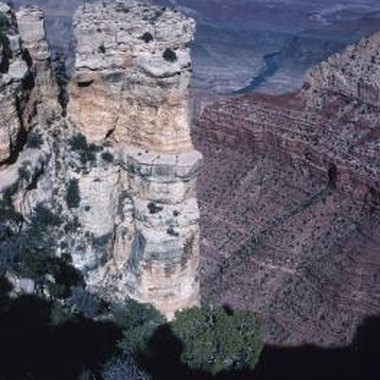 The Grand Canyon is one of America's most iconic tourist attractions. The Canyon runs a distance of 227 miles through northern Arizona and averages 4,000 feet in depth. It is 6,000 feet in depth at its deepest point and spans 15 miles at its widest. The canyon is spectacular from any viewpoint but there are several canyon spots and ways of seeing it that are the most memorable.
Grand Canyon Skywalk
The Grand Canyon Skywalk (grandcanyonskywalk.com) is one of the newest ways of viewing the attraction. It opened on March 20, 2007 in a ceremony that included astronauts Buzz Aldrin and John Herrington, who was the first Native American Astronaut. It is a large, horseshoe-shaped walkway that extends 70 feet beyond the canyon's edge and has a glass-bottomed floor. It gives a unique perspective of the Canyon to visitors, as they are able to look directly down a 4,000 foot drop to the river below.
Toroweap
The Toroweap area, also known as Tuweep, is an isolated section of the canyon which offers breathtaking views. Not only is it popular for its views of the canyon but is is also known for some volcanic features that are not found elsewhere within the park. Solidified lava flows and volcanic cones litter the area. Toroweap is maintained by the park service to remain as natural and unspoiled as possible, so it offers few amenities but some of the best views. It is only really reachable by car along roads that can be treacherous in the winter.
Hermit Road
Hermit Road is a 7-mile trail running from Hermit's Rest to Grand Canyon Village. The road runs along side the western portion of the canyon on the south rim and has several viewing points along the way. During the summer season it is open to hikers, cyclists and runs a free shuttle bus service to all lookout points. Private vehicles can only use the road in the winter season between December and February.
Desert View Drive
Desert View Drive runs out of Grand Canyon Village in the opposite direction of the Hermit Road. It is a 25-mile scenic route along the south rim with numerous stop-off and lookout points. Unlike the Hermit Road, it is open to public vehicles as well tour buses year-round. Other attractions along the road include the Desert View Watchtower and the Tusayan Ruin and Museum.
Photo Credits
Hemera Technologies/Photos.com/Getty Images