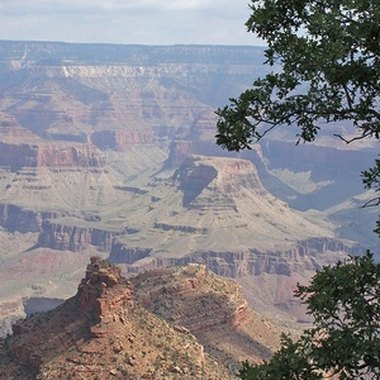 For Grand Canyon visitors who travel with pets, finding pet-friendly lodging is an important aspect of vacation planning. For maximum flexibility, lodging close to Grand Canyon National Park is ideal. Other visitors may decide to stay further away and commute an hour or so to Grand Canyon National Park for their visit. Fortunately, a few pet-friendly alternatives exist.
Welcome and Keep Pets at Hand
Pet-accompanied travelers visiting the Grand Canyon will find pet-friendly lodging at Grand Canyon Red Feather Lodge. The lodge is centrally located in the heart of the town of Tusayan, only a mile from Grand Canyon National Park's south entrance and about eight miles from some of the park's spectacular South Rim panoramic vistas. Upon check-in, the hotel charges a refundable pet deposit. Additionally, each pet guest will be charged a daily pet fee. Guests agree that their pets will not be left unattended in the room.
Two Medium-Size Pets is the Limit
Canyon Plaza Resort Grand Canyon is a full-service resort located about one mile from the south entrance to Grand Canyon National Park and seven miles from the South Rim. Guests are in close enough proximity to the national park to take in a morning canyon hike, return to the resort for an afternoon swim, then drive back to the canyon rim in time for sunset. Of the resort's 176 rooms, 56 are two-room suites with large living areas, a private bedroom and an additional sofa sleeper. Guests can arrange for jeep and helicopter tours. Medium-sized pets that are no larger than 40 lbs. can be accommodated. No more than two pets are permitted per room with a nonrefundable fee.
One-Time Pet Fee
About 63 miles from the south entrance to Grand Canyon National Park, the Quality Inn Mountain Ranch and Resort in Williams, Arizona, offers pet-friendly accommodations. The resort is about 25 miles from Flagstaff, 20 miles from the Flagstaff Pulliam Field Airport, and approximately six miles from downtown Williams. The hotel restaurant and lounge are casual and room service is available. The swimming pool outdoors is operated seasonally. Guests with a pet pay a one-time fee, and size limitations are enforced. The hotel advises prospective guests to contact and confirm pets in advance of a visit.
Dogs Only
Like Quality Inn Mountain Ranch Resort, Travelodge Williams Grand Canyon is located in Williams. The hotel, the closest Travelodge to the Grand Canyon, is on Historic Route 66, about 35 miles from Flagstaff Pulliam Airport. Guests may enjoy the indoor Jacuzzi and seasonally heated outdoor swimming pool. Dogs are the only pets permitted. A daily fee applies. Check with the hotel for availability of pet lodgings and any other restrictions or limitations.