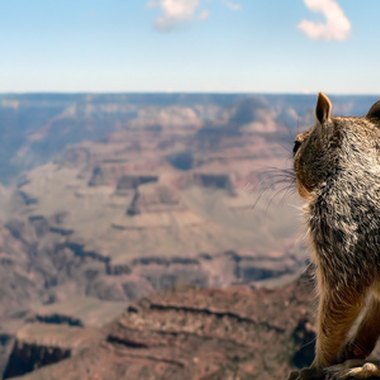 The Grand Canyon's range of historical lodging, much of which was built to meet the demands of visitors at the beginning of the 20th century, reflects the natural wonders of the American West. Local timber and stone went into the buildings, many of them designed by Mary E. J. Cotter, who included Native American themes in her architecture.
El Tovar Hotel
El Tovar opened in 1905 to accommodate travelers on the Santa Fe Railroad. Renovated in 2005 and located steps from the South Rim of the Grand Canyon, the hotel resembles a hunting lodge. El Tovar is the only hotel in the canyon to offer nightly turn-down and room service. The hotel is usually booked months in advance and is least busy during the slow winter season. View suites, with a sitting room and balcony overlooking the canyon, fill a year in advance.
Bright Angel Lodge and Cabins
Bright Angel Lodge, built in 1935 and listed on the National Register of Historic Places, consists of a lodge and series of cabins clustered along the rim of the canyon. Accommodations range from budget-friendly rooms with shared bathrooms to private cabins with canyon views. The Bucky O'Neill cabin is one of the park's oldest buildings. Bright Angel is the busy hub of activity on the South Rim, so canyonside cabins are the least noisy. Cabins fill up well in advance.
Phantom Ranch
Historic Phantom Ranch is the only lodging below the Grand Canyon's rim, and is reachable by mule, hiking or rafting the Colorado River. It's an ideal stopping place for visitors traveling to the bottom of the canyon. Built in 1922, the main lodge and rustic cabins, built from native stone and wood, don't intrude on the surroundings. Accommodations in the lodge are dormitory style. Separate dorms for men and women each have 10 beds and a bathroom. Cabins are furnished with bunk beds, and there's a central bathhouse for guests.
Grand Canyon Hotel
The Grand Canyon Hotel, built in 1891, is the oldest in Arizona. Williams, the hotel's location, is the southern terminus of the Grand Canyon Railway and celebrates its history during the summer with mock gunfights in the streets. The Grand Canyon Railway uses vintage rolling stock to make the 65-mile trip to the South Rim of the canyon daily. The hotel's dorms and rooms with shared baths are budget-friendly, and the hotel boasts that no televisions exist in standard rooms.
Resources
El Tovar Hotel; Grand Canyon Village; Grand Canyon, AZ‎ 86023; 888-297-2757
Bright Angel Lodge and Cabins; 219-221 Village Loop Dr; Grand Canyon Village, AZ 86023; 928-638-2631
Phantom Ranch; Grand Canyon, AZ 86023; 928-638-3283
Photo Credits
squirrel overlooking thr grand canyon image by Graeme Hilditch from Fotolia.com